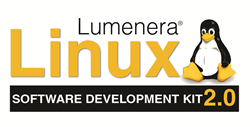 Ottawa, ON (PRWEB) April 02, 2015
Lumenera, a leading manufacturer and developer of high performance digital cameras and custom imaging solutions, is pleased to announce the launch of Lumenera Linux SDK 2.0— their new software development kit that supports the popular Ubuntu Linux operating system.
Combing powerful features with reliable performance, the Lumenera Linux SDK 2.0 software maximizes the high-speed, high-resolution features of Lumenera's USB 3.0 cameras, officially supporting the Lt225, Lt425, Lt365R, Lt665R, and Lt965R. It also supports Ubuntu 12.04 on 32 and 64-bit x86 platforms. Furthermore, it has the same common API call format as Lumenera's Windows SDK for easy migration between platforms.
Lumenera chose to formally support Ubuntu Linux with their cameras as it is used by thousands of development teams around the world because of its strong presence globally, versatility, reliability, and extensive developer libraries. Ubuntu has regular Long Term Support (LTS) releases that are supported for five years, making it an ideal choice for developers.
"Linux is growing in popularity for developers working on x86 and embedded platforms because Linux offers flexibility, maximizes hardware resources and is low cost vs. Windows," said Eric Ramsden, Product Manager at Lumenera Corporation. "Lumenera has been supporting Linux® development with our cameras for many years and is working to formally expand our support for our latest USB 3.0 cameras and popular Linux platforms."
Lumenera Linux SDK 2.0 is now available. Contact info(AT)lumenera.com with your imaging requirements, or visit Lumenera online at http://www.lumenera.com for more information.
About Lumenera
Lumenera Corporation, a division of Roper Industries, and headquartered in Ottawa, Canada, is a leading developer and manufacturer of high performance digital cameras and custom imaging solutions. Lumenera cameras are used worldwide in a diverse range of industrial, scientific and security applications.
Lumenera solutions provide unique combinations of speed, resolution and sensitivity in order to satisfy the most demanding digital imaging requirements. Lumenera customers achieve the benefit of superior price to performance ratios and faster time to market with the company's commitment to high quality, cost effective product solutions. For further information about Lumenera, please visit http://www.lumenera.com or call 613-736-4077. To receive Lumenera press releases as they are issued, contact us at marketing(AT)lumenera.com.