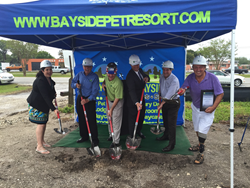 "Our goal is to always provide the same care to our animals as we would want provided to our human families."
OSPREY, Fla. (PRWEB) April 01, 2015
Bayside Pet Resort & Spa, a luxury pet resort offering five-star amenities to its canine and feline guests, recently broke ground on the company's second full-service, state-of-the-art luxury overnight facility and third location.
A group of approximately 60 people, including Sarasota County Commissioner Christine Robinson, were in attendance to celebrate the new project at the rainy groundbreaking event on Friday, March 27.
"This $4 million project, which will bring 50 jobs to our local economy, is a great example of urban infill and economic development," said Robinson. "Thank you for investing in our community, beautifying our community and bringing jobs to the Osprey and Nokomis community," she said during the groundbreaking ceremony to Robert Huff, Bayside Pet Resort founder and CEO.
The future site of the Osprey, Fla. resort at 728 S. Tamiami Trail is expected to be completed in December 2015. The new location will include all of the services offered at Bayside's first two locations. Designed as a fun full-service resort for pet family members, the facility will include grooming, lodging and daycare services in an indoor climate-controlled interior with play areas and a covered outdoor courtyard with pool and play ground.
"We're breaking ground here to fulfill a need in South County," said Huff. "Our goal is to always provide the same care to our animals as we would want provided to our human families."
J.E. Charlotte Construction Corp. was selected to construct the Osprey location because of the company's expertise in building high-quality pet facilities. The Venice-based construction company built the first Bayside Pet Resort & Spa. Sivitz Innovative Designs is the architect on the project.
About Bayside Pet Resort & Spa
Bayside Pet Resort & Spa is a luxury pet resort offering five-star amenities to its canine and feline guests with state-of-the-art accommodations. The highly trained staff at all Bayside Pet Resorts provides a daily five-point health check. The lodging service allows for owners to choose between indoor and outdoor private patios and play time with friends in daycare and/or individual time. Bayside Pet Resort & Spa received the 2015 Sarasota Herald-Tribune Readers' Choice award for the No. 1 Grooming Salon.
The first Bayside Pet Resort & Spa opened its location near the Sarasota Bradenton International Airport at 8154 N. Tamiami Trail in 2012. In 2013, the Bayside Pet Spa opened in an existing shopping plaza at 8405 Honore Ave., specializing in grooming and spa services, massages and other ways to pamper pets. For more information, visit http://www.baysidepetresort.com or call 941.351.0730.