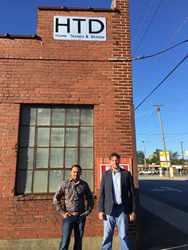 Austin, Texas (PRWEB) April 02, 2015
AUSTIN, TX (April 1, 2015) – When Hank Cravey and Dhaval Lodhavia co-founded Home Trends and Design in 2005, they knew they wanted to build a company that was known for creating beautiful, solid wood furniture. "We had a lot to learn in the beginning," Cravey said. "We knew we were in the furniture business, we knew we needed to design some new furniture, but we didn't really understand construction techniques. We had to learn a lot the hard way…but we did it."
Ten years later, that passion has driven HTD to become an award-winning company that is known for its commitment to sustainability and solid wood designs. During the last decade, the company co-founded the Sustainable Furniture Council, moved to a larger warehouse and became a fixture at some of the top design shows in the world. This includes the Las Vegas Market, where HTD has a 9,000 square foot showroom, as well as High Point Market, where they have a 16,000 square foot space. HTD will also have a new, larger booth at this year's International Contemporary Furniture Fair (ICFF) in New York.
At HTD, this commitment to ever improving both their product and their business model is believed to be a key contributor to their success – and it's a commitment they intend to follow as the company continues its pattern of growth into the future. "We're in this not only to make a great product, but then also to dovetail it into a business model which creates value for our customers," Cravey said.
In recognition of their growth, HTD was recently named to the Inc. 5000 list for the fourth consecutive year, as well as to The Austin Business Journal's "Fast 50" list – an award they've now received three times. Other recognitions include the ICIC Inner City 100 Award and the ADEX award for design excellence.
About Home Trends & Design
Home Trends & Design is an Austin-based furniture manufacturer that creates heirloom-quality furniture from sustainable and reclaimed materials. All of their products are handcrafted from solid wood to create a home furnishings collection that represents some of the most beautiful, carefully constructed pieces on the market today. For more information, please visit http://www.htddirect.com.