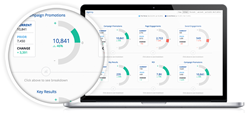 San Jose, CA (PRWEB) April 03, 2015
TapClicks today announced that TapAnalytics is featured in the just-released list of "Top 50 Tools to Measure the Effectiveness of Your Enterprise Marketing Campaigns," from Docurated. TapAnalytics was ranked in the top 25, higher than Domo, Tableau, GoodData, Teradata, Raven Tools, and Marin Software, among many others.
As the list of leading tools describes, TapAnalytics is a comprehensive digital marketing platform that enables agencies, their clients, and enterprises to track, analyze, and optimize their digital marketing campaigns for great efficiency and marketing ROI. TapAnalytics integrates a rich spectrum of marketing campaign tools delivering cloud-based, on-demand campaign performance dashboards, reporting and analytics. Key features include:

Integrating all marketing data across campaigns into a unified dashboard
Automated reporting and scheduling
Quick performance insights via color-coding and scoring
Graphs, timelines, pie charts, and other visualization tools
Configurable permissions to match your company structure
See the full list of "Top 50 Tools to Measure the Effectiveness of Your Enterprise Marketing Campaigns" here: http://www.docurated.com/all-things-productivity/top-50-tools-to-measure-the-effectiveness-of-your-enterprise-marketing-campaigns. Docurated is an enterprise productivity and document management solution with a simple, visual way to find, organize, and consume content.
About TapClicks
TapClicks, Inc. is an adtech company that caters to digital agencies, local-media, and enterprise customers, with a suite of products including the TapAnalytics marketing reporting dashboard (http://www.tapanalytics.com). TapAnalytics focuses on performance reporting, digital ROI, and analytics for agencies and enterprises. TapClicks was founded in 2009, and operates out of offices in Silicon Valley, Boston, Canada, India and Mexico. For more information, please visit http://www.TapClicks.com.