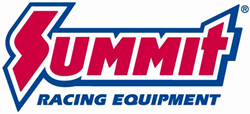 Tallmadge, OH (PRWEB) April 02, 2015
Offenhauser's classic intake manifold will squeeze more power out of the venerable six-pot. The manifold allows builders to install a four-barrel carburetor in place of the stock single- or two-barrel unit. An Offenhauser Single Quad Intake Manifold was featured on Episode 3 of PowerNation's Engine Power. Watch the full episode here.
The unique design of the intake runners equalizes fuel distribution to each port, resulting in improved power and throttle response. In addition to performance gains, adding a modern four-barrel carb can make tuning easier. Offenhauser's single quad intake manifold also allows engine builders to enjoy a much wider range of carburetor options.
The manifold's performance gains and versatility are probably why PowerNation's Engine Power team used one on its Slant Six Duster project.
The Offenhauser single plane intake manifold will work with the Chrysler 170 and 225 C.I.D. Slant Sixes. Using one on vehicles with an automatic transmission will require an additional installation kit, which is sold separately.
Offenhauser also makes intake manifolds for other inline six engines including Chevy 216-235 and 194-292, Ford flathead 223 and OHV 170-300, AMC/Jeep 199-258, and Dodge/Plymouth flathead 218-230 engines.
See Offenhauser's Inline 6-Cylinder Intake Manifolds at Summit Racing
Summit Racing Equipment
http://www.SummitRacing.com
1-800-230-3030