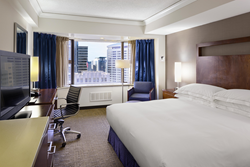 Seattle, WA (PRWEB) April 01, 2015
The Hilton Seattle Downtown hotel has announced a limited time offer for Mother's Day. Treat Mom to a getaway in Seattle and pamper her with overnight deluxe accommodations, free parking, and a delicious brunch for two at the Top of the Hilton on Sunday, May 10, 2015. The hotel's convenient location in downtown Seattle puts all of the city's major attractions within a short distance.
A delicious menu has been crafted for Mother's Day Brunch at the Top of the Hilton, and includes favorites such as honey glazed ham, prime rib, smoked herd roasted turkey, crab cake benedict, smoked salmon and trout display, salad displays, breakfast displays, traditional sides, a separate children's buffet, and more. Additionally, desserts will include banana caramel bread pudding, cheesecake, chocolate fondue station with a variety of dipping options, and crème brûlée. The complete menu may be viewed online at http://www.TheHiltonSeattle.com/mothers-day.
Brunch is also open to the public, with reservations available between 11 am and 3 pm. Contact the hotel directly for reservations and more information at 206-624-0500. Offer is subject to availability, so guests are encouraged to book early.
The newly renovated downtown Seattle Hilton hotel proudly offers 6,000 square feet of flexible meeting space, a convenient downtown location and luxurious accommodations with panoramic views of Seattle and the Olympic Mountains. Upgrades to this Downtown Seattle hotel include a complete room renovation, a new restaurant specializing in contemporary American Cuisine with a Pacific Northwest flair, the addition of a new Executive Lounge on the top floor featuring panoramic Seattle views, upgrades to the street level hotel entrance, and complete renovations to the lobby, front desk, Lobby Lounge, and function space. The most notable renovation is the Top of the Hilton, which is now a top floor meeting and banquet space and features breathtaking views of Elliott Bay, Seattle skyline, and the iconic Space Needle.
The downtown Seattle Hilton hotel is the perfect destination for leisure and business travelers alike. Guests enjoy a central location with close proximity to Pike Place Market, the Washington State Convention Center and many great Downtown Seattle dining and shopping options. Amenities include a fitness center, room service, business center, concierge services, on-site parking, over 6,000 sq. ft. of versatile meeting space, multi-lingual staff, in-room mini-refrigerators, and much more.