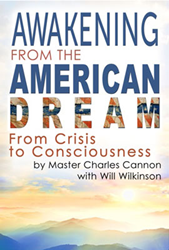 April Showers Awaken New Flowers, As a Good Read Opens New Powers
Faber, VA (PRWEB) April 07, 2015
It's reported that some fish and animals, such as frogs, have a hard time adapting to and reproducing in an acidic environment. Many plants, such as evergreen trees, are damaged by acid rain and fog. Just as it does its share of harm to tree trunks and limbs, to buildings and their stone facades in the natural and urban environments, this type of condition is not any friendlier to the human species. For the most part, the greater the concentration of corporate influence, and the denser the population, "acid rain" type contaminants (with the prevailing media winds mixed-in) can storm upon modern-day society. Unless there's an amenable way to neutralize the acidity, it'll reoccur. Anyone concerned about that, may appreciate that the book, "Awakening from the American Dream" and "NOW…The Technology", its counterpart, are the closest of ways for neutralizing such an acidic condition.
The author and creator of these two protective measures is one and the same, Master Charles Cannon. In a career that's evermore concerned and devoted to mankind's safety and successful living, he wipes the "dust of capitalism and ceremonialism" off his shoes and gives his readers/students a master-class in dancing-in-the-rain. Armed with these two, the acerbic impositions issuing from boardrooms and adverse administrations, the main sources of acidification, can be acclimatized, if not disarmed.
The acid rain effect is all around. It's like flies invading an otherwise perfectly fine picnic. They have the power to cloud the atmosphere, and ruin the moment. When invasive external objects, visible or invisible, appear to foul-up the moment, Master Charles Cannon has fraternal words for that. Instead of leaving the room, or escaping into medication, or drifting-off again into a daze, why not try something kinder and more attuned to human evolution than the American day-dream? High-tech meditation is his prescribed solution for maintaining proper balance over the acidity of the day. The health and identity of all living cells - in the soil, in the brain, and ocean life - is affected by a delicate balance. Balance is everything in a living, breathing and dancing world.
Master Charles Cannon's message doesn't empty the room. It resonates with his dancers. He picks up the beat with "NOW…The Technology" and really swings into play. Start with any stereophonic sound-speaker system, portable i-Pod, MP3, or with headphones, or on-low. Then push Play. Alpha, theta, delta and subtle gamma frequency patterns, bio-geometrically, and holo-dynamically perform the "synchronicity". This audio-sonic, entrainment technology, a balancing tool, brings many an acoustic quality benefit to its users, such as restoring personal balance. In plain English, these good vibrations entrain, or balance those disturbing, racing, spun-around brainwaves, which are so hazardous to everyone's otherwise preferred state of equilibrium.
The technology in these infra-ultra frequencies accelerates the senses at a pasodoble pace, leaving anything wreaking havoc in the dust. Moreover, those who like to take their truly adventurous side out-for-a-spin, will find themselves practically shifting into flight. Not the kind of flight where a pilot's license is required for clearance, showing that the pilot is instrument-rated and certified for take-off. Rather, it's a Fred Astaire lift-off sensation or inspiration. Funny as it may sound, the good technology is inspired by the weaknesses of technology. It's not unlike a choreographer's relationship in training a struggling dancer that's riddled with doubts. It's a partnership where the potential for human elation is propelled by the problems-afoot.
Naturally, anyone ready to enjoy a couple of new steps for dancing-in-the-rain won't find it difficult at all to follow the interdisciplinary lead given by the book and the technology – two instruments for good.
As Nietzsche once put it, "He who would learn to fly one day must first learn to stand and walk and run and climb, and dance…."
###
=====================================================================
For background, interview, feature, or cover materials, refer to:
Master Charles Cannon
Master Spiritual Teacher of "Modern Spirituality"
Disciple of Swami Muktananda Paramahansa
Author of: "Bliss of Freedom", "Meditation Tool Box", "Modern Spirituality" book and CD set, "Forgiving the Unforgivable" and "Awakening from the American Dream"
Founder of International Synchronicity Foundation for Modern Spirituality, and Synchronicity Sanctuary Retreat Center
Pioneer of the High-Tech Meditation Method "Modern Meditation for a Modern World"
Program Event Host at the Blue Ridge Mountains, Central Virginia International Retreat Center
Web Channel Leader and Teacher @ http://www.schoolofmodernspirituality.com
Phone: 757-644-3400 Ext 3382
Fax: 434-361-1058
Email: synch(at)synchronicity(dot)org
Primary Website: http://synchronicity.org
School of Modern Spirituality: http://schoolofmodernspirituality.com
TV Website: http://modernspiritualitytv.com
Master Charles Cannon: http://mastercharlescannon.com