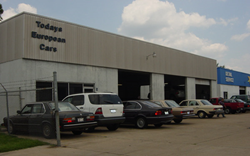 Mercedes Benz Theft Replacement Parts Done By An Indie Shop!
Houston, TX (PRWEB) April 06, 2015
Today's European Cars, Inc. announced it will be one of the few Independent Mercedes shops in Houston that has the proper L.S.I.D licensing to be able to purchase TRP (theft related parts) for Mercedes Benz and install them for their customers.
This Indie shop brings Mercedes owner's in Houston a choice of having theft related parts replaced at the dealer or their local shop. Theft related parts before this could only be replaced at a Mercedes Benz dealerships.
More parts on Mercedes Benz vehicles are falling under the TRP umbrella, for example just recently Mercedes of North America announced that transmissions and control units have been added to the theft related parts list therefore making it only possible to visit a dealership or an independent Benz shop with an L.S.I.D license like Today's European cars for replacement.
As an owner you should know TRP (theft related parts) can only be replaced when proof of ownership is provided to the dealer or an Indie shop like Today's European Cars. Acceptable forms of validating ownership are vehicle registration or a title proving vehicle ownership along with a matching valid picture id.
If you are wondering what falls in to the theft related parts category when it comes to your MB vehicles it covers keys of all types whether mechanical or electronic, lock cylinders and lock sets electronic remotes and control units, electronic shift lever and selector modules, transmission gear control units, electronic steering lock, engine control modules, as well as certain airbags and SRS cables. Some body shell and certain body panels are also on this list.
*Source http://www.nastf.org/files/public/TRP_Policy_PAC003_5FEB.pdf
As more parts become classified as TRP seeking out an Indie shop that can handle these types of replacements will become more and more important. The dealer of course is always a choice that usually comes at an inflated price.
Today's European Cars holds and L.S.I.D lock smith license as well as the necessary equipment to allowing them to service your MB vehicle's TRP parts.
About
Today's European Cars has been operating and Independent Mercedes Benz shop in Houston, TX since 1983. The shops goal has always been to provide exceptional quality service by using knowledgeable mechanics. Our location is conveniently located in the Galleria are allowing us to easily service the Galleria, Memorial, West University, Mid Town, Heights, Downtown, Sugarland and Bellaire area. Call 713-781-7449 or visit us at http://www.cars-autos.com/ .