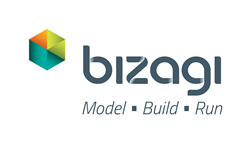 "Bizagi consistently enables enterprises to transform, enhance and optimize their critical business processes with SAP integration." - CIO Review
San Francisco, CA (PRWEB UK) 7 April 2015
Bizagi, a provider of Business Process Management Solutions (BPMS), has been recognized by CIO Review as one of SAP's Most Promising Solutions Providers 2015.
A distinguished panel comprising of CEOs, CIOs, VCs and analysts including the CIO Review editorial board, has put Bizagi among the top companies that are at the forefront of tackling challenges in the SAP market in the U.S.
CIO Review says; "Bizagi consistently enables enterprises to transform, enhance and optimize their critical business processes with SAP integration."
Bizagi's out-of-the-box Connector facilitates two-way interaction between core business transactions and the corporate processes that make it run efficiently.
Installed via a simple plug-in from Bizagi's website, business users can query, create or update SAP records directly, from any part of their BPM system, and interact with any SAP module, from ERP and CRM through to Financials, Accounting, Sales or Distribution.
Through automation, businesses can then push large volumes of financial information to SAP, enabling staff in all roles and departments to execute multiple real-time transactions direct from their processes – creating significant time savings.
For example, one of Bizagi's key clients – a global sportswear retailer – saved 1 million emails per year in its Supply Chain division through smart SAP/process integration.
What makes the integration truly stand out is the ease of configuration. By following Bizagi's 'Modeling over Programming' approach, non-business users are able to easily map SAP to their processes and manage the subsequent changes – even through SAP upgrades – without significant involvement from the IT department.
"To be classified as one of SAP's Most Promising Solution Providers in 2015 is no small feat. But then Bizagi has never shied away from challenges when it comes to integrating with internal systems for corporations around the globe," says CEO Gustavo Gomez.
"Our customers often tell us that extending, integrating, customizing plus upgrading SAP is their major challenge because of costs and timescales. Not only that, such projects need to be deployed fast and efficiently, whether driven by changing regulations or new business goals to improve efficiency or customer service. With this new functionality, businesses have all they need to 'wrap their SAP' with workflow."