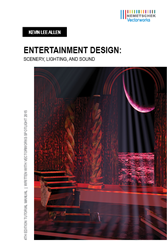 "Kevin Lee Allen's books and accompanying tutorials have been tremendously helpful as I transitioned to Vectorworks as my go-to drafting software."
Columbia, MD (PRWEB) April 01, 2015
Authored by award-winning scenic and lighting designer, Kevin Lee Allen, Entertainment Design: Scenery, Lighting, and Sound with Vectorworks Spotlight, 4th Edition provides readers with tutorial-based design techniques applicable to film, television, concerts, exhibits and more. Allen updated the instructional guide to complement the release of Vectorworks® Spotlight (http://www.vectorworks.net/spotlight/) with Renderworks® 2015 software (http://www.vectorworks.net/renderworks/) developed by Nemetschek Vectorworks, Inc.
The guide outlines a process for design development and collaboration with other designers and technical staff. Specifically, Entertainment Design explores the creation of scenic, lighting and sound designs for a theoretical Broadway production of Romeo and Juliet. Readers will also learn how to create a simple 3D object.
In addition to reflecting the features in Vectorworks 2015 software, the fourth edition of the guidebook will help readers:

Use the new Deform tool to bend, taper or create a bulge with practically any geometric object
Create temporary platforms with Stage Deck tools and model supports with Stage Lift tools
Directly edit Lighting Position objects
Work with new rendering styles such as White Model style
Readers will also be introduced to the Vectorworks Remote App (http://www.vectorworks.net/service-select/cloud-services/remote), which connects mobile devices to a Vectorworks desktop using a remote connection plug-in. The app allows users to interactively use the device like a remote to view, navigate and present designs without having to be at their desktops.
"Kevin Lee Allen's books and accompanying tutorials have been tremendously helpful as I transitioned to Vectorworks as my go-to drafting software," said Tom Palmer, partner and creative director at Palmer Schwartz Agency. "I can't think of a better investment in Vectorworks education than purchasing this training guide."
Entertainment Design is available for $75 here: https://secure.vectorworks.net/estore/training/entertainment-and-lighting-design-with-vectorworks-spotlight. Members of the media interested in reviewing the book may contact Lauren Burke at LBurke(at)vectorworks(dot)net or 443-542-0294.
About the Author
Kevin Lee Allen is an American artist and designer of scenery for film, television and theatre; specialty/themed interiors; special events; museum exhibitions and spectacular signage. His work spans architecture, graphic design and sculpture. He has designed across the United States and on three continents.
Allen's published work focuses on set design and lighting design for the entertainment industries and exhibit design. He has taught the application and other facets of design on the university level and at the Broadway Lighting Master Classes. He attended Montclair State University, where he obtained a degree in theatre, and the Lester Polakov Studio & Forum of Stage Design in New York City.
About Nemetschek Vectorworks, Inc.
Nemetschek Vectorworks, Inc. is the developer of Vectorworks software, a line of industry-specific CAD and BIM solutions that allow designers to easily capture, develop and communicate their ideas with accuracy and efficiency. With more than half a million users around the world, Vectorworks software is a global leader in 3D design technologies for the AEC, landscape and entertainment industries. Nemetschek Vectorworks was founded in 1985 and has been a part of The Nemetschek Group since its acquisition in 2000. For more information, visit http://www.vectorworks.net.
###