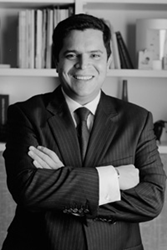 Salinas, CA (PRWEB) April 01, 2015
Dr. Andres F. Herrera of True Bite Oral Surgery and Implant Center invites new patients to experience a revolutionary system of dentures supported by dental implants. This technique now offered at the Salinas office, called All-on-4®, combines the benefits of implants with the affordability of dentures to give patients the best care available today. Now residents of Salinas, CA have full mouth teeth replacement options that can be placed immediately and never have to go without teeth.
The standard of care for teeth replacements has changed over the years with the rapid advancements made in implant dentistry. Dental implants are permanent solutions that maintain healthy bone levels and function like natural teeth. Many who are missing a small number of teeth find that individual implants are a practical option. However, those who require replacements for many teeth need other solutions. Dr. Herrera now offers treatment for those in this circumstance with the help of All-on-4®. With this system, he uses a set of only four implants to support quality, lasting dentures for upper or lower teeth.
Unfortunately, many misconceptions still exist regarding the comfort and feasibility of this type of teeth replacement in Salinas, CA. The problems experienced by people with the old denture systems are not to be expected with All-on-4® replacement. This new technology relies on implants to hold the prosthetics in place. Unlike traditional dentures, All-on-4® patients experience no denture slipping and do not need sticky adhesives. This means that the replacement is comfortable, feels natural in the mouth and holds up to chewing any type of food. Dental implants keep surrounding bone in good health by stimulating it the way natural teeth do. With this benefit, the fit of dentures does not change over time, and they do not have to be remade.
Those in need of teeth replacement in Salinas, CA now have the option of All-on-4® when they contact Dr. Herrera's office through his website or by phone. Dr. Herrera is happy to answer questions and he will even sit down with patients to discuss whether they are good candidates for the procedure. Patients who mention this release will receive a complimentary consultation.
About the Doctor
Dr. Andrés F. Herrera is a general dentist and oral surgeon with True Bite Oral Surgery and Implant Center, with locations in both Salinas and Freedom, CA. Dr. Herrera received his Doctorate in Dental Surgery degree from the Pontificia Universidad Javeriana and completed a six year Oral and Maxillofacial Surgery residency at Loyola University Medical Center in Chicago, IL. Dr. Herrera is currently a Diplomate of the American Board of Oral and Maxillofacial Surgery and the American Association of Dental Anesthesiology. Dr. Herrera is committed to continuing education and providing patients with individualized care. To learn more about Dr. Herrera and the dental services he provides, visit his website at http://www.montereypeninsulaoms.com/. You can also call the Salinas Office at (831) 269-3533 or the Freedom Office at (831) 740-8073.