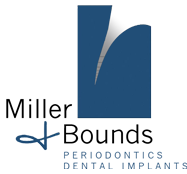 Irvine, CA (PRWEB) April 01, 2015
Drs. Steven J. Bounds and Todd E. Miller are now accepting new patients from Irvine and Orange County, CA and offer a revolutionary gum recession treatment, the Chao Pinhole® Surgical Technique (PST™). This minimally invasive procedure involves the use of specialized dental tools to reverse the effects of receding gums without the need for painful and traumatic grafting surgery.
The main body of a tooth is comprised of a material called dentin that protects the nerve in the center. Thousands of tiny tubules extend from the nerve through the dentin and produce a shock of pain when they come in contact with hot, cold or sweet substances. Enamel shields the tooth crown from coming in contact with stimuli. The gums protect the roots, but when a patient has receding gums, the tubules are exposed, often making eating and drinking painful. This also changes the aesthetic appearance of the teeth, making them look longer as the gums pull back. Many people feel self-conscious or embarrassed about the altered state of their smile.
Drs. Miller and Bounds are among the few periodontists in the country who are qualified to offer the PST™ gum recession treatment. During this procedure, a tiny hole is made in the gums near the exposed root. The tissue is loosened so that it can be guided back over the sensitive dentin. Finally, collagen is inserted to hold the gums in place and stimulate new tissue growth for a full recovery. Up to ten teeth can be treated in a one-hour appointment. It is common for patients to report feeling no pain the following day. Individuals interested in learning more about PST™ gum recession treatment can find information on the Miller & Bounds Periodontics and Dental Implants website.
About the Practice
Miller & Bounds Periodontics and Dental Implants is a periodontal practice providing personalized dental care for patients in Irvine, CA. Dr. Todd E. Miller received his Doctor of Dental Surgery from the University of California Los Angeles Dental School in 1980, where he also served as a clinical periodontics instructor at the UCLA Dental School. Dr. Miller's partner, Dr. Steven J. Bounds, graduated from Creighton University School of Dentistry, where he received his Doctor of Dental Surgery degree in 1996. Dr. Bounds went on to complete his Certificate of Specialization in Periodontics at Ohio State University, where he also served as a clinical instructor to the university's dental students and contributed to biochemistry research efforts. Both doctors have extensive experience in all aspects of periodontal treatment, including dental implants, periodontal plastic surgery, gum and bone regeneration, and IV conscious sedation. Drs. Miller and Bounds are among the first group of periodontists and dentists in the country to undergo the training required to perform the Chao Pinhole Surgical Technique™, a new, minimally invasive alternative to traditional gum grafting surgery. They also belong to the one percent of dental professionals currently providing the LANAP® protocol, the first FDA-cleared laser procedure for gum disease and periodontal treatment. To learn more about the dental services available at Miller & Bounds Periodontics Dental Implants, please visit http://www.millerandbounds.com or call (417) 889-5297.