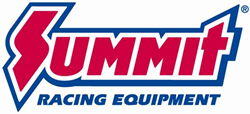 Tallmadge, OH (PRWEB) April 10, 2015
Centerforce has just introduced a twin disc clutch set built to withstand the massive torque a well-tuned Cummins diesel can create. The Centerforce Diesel Twin Disc Clutch Set is a straightforward bolt-up affair, with no modifications to the vehicle required.
Centerforce starts with a centrifugal clamp load-assisted pressure plate for superior strength. The plate's patented ball bearing design delivers massive holding power, while still retaining easy pedal effort. The Centerforce Diesel Twin disc clutch set also gets a multi-stage dampened dual-disc hub assembly, which improves holding power while suppressing vibration. Bolt it all together with hardened ARP fasteners, and enthusiasts have a clutch that's got plenty of holding power for a performance Cummins diesel engine.
Each Centerforce Diesel Twin Disc Clutch Set is hand-built and fully tested before it leaves the Centerforce factory.
Summit Racing Equipment
http://www.SummitRacing.com
1-800-230-3030