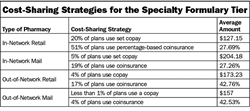 Washington, DC (PRWEB) April 02, 2015
More and more specialty medications are being covered under the prescription drug benefit, which allows payers to take advantage of more cost management strategies than are available for medications covered under the medical benefit. In-house researchers for Atlantic Information Services, Inc. (AIS), examined the pharmacy benefit parameters of the universe of risk-based commercial plans offered in the individual and small-group markets during 2014, publishing their findings in the brand-new Specialty Pharmacy Trends and Strategies: 2015. Their findings are based on information from AIS's Rx Benefit Data (RxB), a new online subscription resource with detailed data, news and insight on prescription drug benefit parameters of commercial health plans. RxB allows subscribers to analyze out-of-pocket costs related to pharmacy benefits for all individual and small-group commercial plans on the market.
AIS found that coverage of specialty pharmaceuticals still varies widely among plans. Among plans that utilize a fourth formulary tier for "specialty" drugs, the majority impose a percentage-based member coinsurance for drugs covered under this tier; AIS also found specialty pharmacy coinsurance amounts up to $600 or 90% per script. And, patients taking specialty medications are much more likely to be restricted to specific network pharmacies or specialty pharmacy providers for these fills. Even when out-of-network benefits are available at other formulary tiers, they are often not offered at the specialty tier.
This combination of factors makes it highly likely that patients on specialty medications will find cost-sharing levels to be burdensome, and will hit their out-of-pocket maximums early in the plan year. Plans can mitigate some of these burdens by offering health savings accounts. Pharmaceutical manufacturers can identify plans with high out-of-pocket limits and costing sharing, and target those members for patient assistance programs.
RxB and Specialty Pharmacy Trends and Strategies: 2015 were both developed by researchers in AIS's Directory and Databases Division, the company's exclusive research team that also creates the industry-leading AIS's Directory of Health Plans. AIS designed the user-friendly RxB database to quickly retrieve the details of prescription drug benefit offerings of each insurer on and off public insurance exchanges, with options to sort by plan name, plan type and metal tier, for both individual and small-group commercial plans. Specialty Pharmacy Trends and Strategies: 2015 covers the most relevant topics in the specialty pharmacy arena, with details on the latest trends in: the medical benefit and site-of-care strategies; cost-control tactics such as formulary exclusions and copayments; designing commercial health plans' specialty benefits; and more. It also includes a directory of specialty pharmacy providers and related services.
For more information and to use a fully interactive demo of RxB, visit http://www.AISHealthData.com/RxB. For more information on Specialty Pharmacy Trends and Data: 2015, including the table of contents, visit http://aishealth.com/marketplace/specialty-pharmacy-trends-and-strategies.
About Atlantic Information Services
Atlantic Information Services, Inc. (AIS) is a publishing and information company that has been serving the health care industry for more than 25 years. It develops highly targeted news, data and strategic information for managers in hospitals, health plans, medical group practices, pharmaceutical companies and other health care organizations. AIS products include print and electronic newsletters, websites, looseleafs, books, strategic reports, databases, webinars, and conferences. Learn more at http://AISHealth.com.