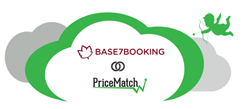 Paris (PRWEB) April 02, 2015
PriceMatch : Europe's fastest-growing Revenue Management System, today announced the successful XML integration with the Base7booking cloud-based Property Management System (PMS). Hoteliers have the added benefit of a zero-risk, free trial and low monthly fee for both cloud PMS and RMS solutions. Next-gen technology and a next-gen business model for independent hotels and resorts.
PriceMatch uses Base7booking PMS reservation data and historical segmentation data aggregated with competitors pricing and local events data to provide improved price recommendations to drive greater revenue.
With this connectivity, Base7booking pushes real-time booking pace data to PriceMatch which means hoteliers don't miss a single pricing opportunity with multiple price optimisation cycles run throughout a 24 hour period.
"When it comes to building the hotel technology of the future, connectivity is key. Base7booking not only provide their clients with a high calibre PMS, it also allows them to easily share their PMS data. This is a substantial benefit in the era of smart technologies, because those systems need access to the relevant PMS data." commented Arthur Waller, CEO of PriceMatch. "Cloud technology makes this easier and this is why I can see more and more hoteliers moving to cloud-based PMS in the future".
"Integration with PriceMatch is an essential complement for Base7booking. Connected together, our two systems allow hoteliers to react more swiftly in their competitive environment. Nowadays, knowing your clients and winning their loyalty is not enough, you have to be able to offer them the right price, at the right time, in the right context. I am certain that this partnership will be beneficial to our mutual clients in terms of revenue increase." said Franck Martin, CEO of Base7booking and added that he is enthusiastic at the opportunity to collaborate with PriceMatch, as both companies share a vision on the future of the hotel industry.
Founded in 2012 by graduates of the prestigious Swiss hotel school Ecole Hôtelière de Lausanne, Base7booking is growing rapidly and already present in 28 countries. Customers credit a meticulous attention to hotel operations and an innovative technology platform as key elements of success with Base7booking.
PriceMatch was also founded in 2012, by young mathematics and econometrics graduates from the top parisian engineering schools. Their vision was to democratize Revenue Management by proposing a user-friendly tool that would provide hoteliers with reliable and accurate price recommendations. PriceMatch is a cloud-based platform that automates the tedious tasks of data collection and analysis and allows the hoteliers to focus on strategy and service.
***
About PriceMatch:
PriceMatch provides an innovative and easy-to-use revenue management solution designed for both hotel managers and experienced revenue managers. Using big data and advanced econometric tools, the PriceMatch algorithm provides pricing recommendations through an extremely user-friendly website. Our account managers and engineers guarantee every hotel a personalized assistance to optimize their RevPar.
More info at https://www.pricematch.travel/en/
About Base7booking
Base7booking is more than a cloud-based hotel property management software, it is a fresh look at the hospitality industry. We have encapsulated efficient hotel management strategies into Base7booking, whether it's in the know-how of the hospitality experts helping our customers out, or in the small details of the software itself. Because of that, we are in line with hoteliers' needs and we allow them to save time that is better spent with their guests.
More info at https://www.base7booking.com