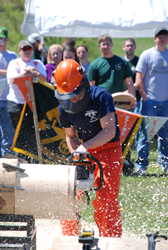 Cumberland, MD (PRWEB) April 01, 2015
Student forest technicians from six colleges in the region will bring their skills to Allegany College of Maryland to compete with each other and the home team in the upcoming Mid-Atlantic Woodsmen Meet.
In addition, forestry students from three four-year schools will join the half-dozen colleges in the STIHL TIMBERSPORTS MidAtlantic Collegiate Qualifier, a preliminary event leading up to the U.S. Collegiate Championships in June.
Both events, which feature such classic lumberjack skills as climbing, rolling, tossing, sawing, chopping and felling, will be held Saturday, April 11, on ACM's Cumberland campus. Admission is free and open to the public.
Sports broadcaster ESPNU will film the STIHL TIMBERSPORTS competition, which features college lumberjacks competing in four of the disciplines in which professionals test logging skills for the national championship.
One collegiate winner will emerge from this qualifier to compete with peers from four other regions in the collegiate championship, which will be held in New York's Central Park in honor of the event's 30th anniversary.
The competition begins at 8 a.m. in archery and dendrology, the study of trees. Contestants and other school representatives are given an official welcome at 9:30 a.m. Activities such as team log roll, orienteering, bolt split, speed chop, pulpwood toss and tree fell follow.
The Mid-Atlantic Woodsmen Meet continues until noon, when student foresters from all nine colleges and universities convene for the STIHL TIMBERSPORTS MidAtlantic Collegiate Qualifier.
Starting at 1:30 p.m. with axe throw and pole climb, additional woodsmen events to follow include cross-cut saw, single buck, chain saw, choker setting and speed chop. The competition concludes at 5 p.m.
Visiting forest technician schools are: Haywood Community College, Clyde, N.C.; Montgomery Community College, Troy, N.C.; Pennsylvania College of Technology, Williamsport; Penn State Mont Alto; and Dabney S. Lancaster Community College, Clifton Forge,Va.
Joining them for STIHL TIMBERSPORTS are West Virginia University, Penn State University and Warren Wilson College, Asheville, N.C.
For more information about the competition contact Steve Resh, ACM forestry programs coordinator, at 301-784-5307. Information is also available at http://www.allegany.edu/forestry.