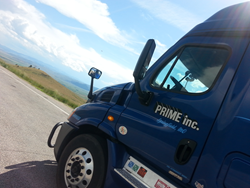 Nationally, 86% of truck drivers are overweight and 69% are obese.
SPRINGFIELD, MO (PRWEB) April 02, 2015
Prime, Inc., North America's most successful refrigerated, flatbed and tanker trucking company, recently released preliminary results of their Driver Body Composition Study to promote healthy lifestyles and wellness among truck drivers nationwide.
According to a 2014 NIOSH study, truck drivers are more likely to have high-risk factors — like hypertension, high cholesterol and obesity — for chronic diseases. Today, Prime, Inc. publicized results from their Driver Body Composition Study in an effort to raise awareness among the trucking industry, an industry commonly recognized to overlook physical health and wellbeing.
From April to November 2014, Prime measured the body composition of over 100 drivers who enrolled in their Driver Health and Fitness (DHF) 13-Week Program. Using a method called bio-electric impedance, the company measured each driver's weight, body fat percentage, water weight, muscle mass, visceral fat, basal metabolic rate, bone density, metabolic age, and physique rating.
The average weight of all drivers, men and women, was 268 lbs. In addition, the average body fat for all DHF participants was 40%. The visceral fat rating, which is a measure of the fat surrounding the internal organs in the belly area, was an average of 18.
"What the preliminary study shows us is that the drivers in Prime's fleet tend to be healthier than most truck drivers," said Siphiwe Baleka, Prime's Driver Health and Fitness Coach. "Nationally, 86% of truck drivers are overweight and 69% are obese. We track the BMI of the entire Prime fleet and currently only 56% of our drivers are obese. We've set up programs to reduce the average BMI of the fleet to less than 30%, the percentage cut off for obesity."
While there is not enough complete aggregate data on the overall effect of the DHF 13-Week program, the average weight loss of drivers that have completed the program is 20 lbs. Over 80 drivers have lost 7% of their body weight or more in 13 weeks without skipping meals and, as a result, they have reduced their risk for 60 medical disorders and 12 types of cancers.
"No other trucking company that I know of is tracking the health of its fleet in this way. Why take care of the truck and trailer if you are not going to take care of the driver, too?" Baleka stated. "Prime drivers are not only losing weight, they're transforming their bodies. We believe this makes a healthier driver and a safer driver."
To learn more about Prime, Inc. visit driveforprime.com. For more information on Prime's Driver Health and Fitness Program, contact Siphiwe Baleka at sbaleka(at)primeinc(dot)com.
About Prime Inc.
Founded in 1970 by Robert Low, Prime Inc. is North America's most successful refrigerated, flatbed, tanker and logistics trucking company. Headquartered in Springfield, MO, Prime's personnel, equipment and technology remains on the cutting edge of the transportation industry, and the company's growth remains steady and well-managed.
###