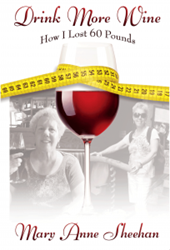 (The author) feels compelled to make a change for her self-esteem and – more importantly – her health when her daughter's wedding approaches.
CHICAGO (PRWEB) April 02, 2015
Watching television for just a few minutes one can see how many ads are devoted to weight-loss products, fitness programs and nutrition promises. In a new book, author Mary Anne Sheehan shares her personal journey to lose weight and gain better health one step at a time without giving up her daily glass of red wine. Her goal is to empower post-menopausal women who experience weight gain, imbalanced hormones and hot flashes that can last up to a decade, and do it without reverting to more dieting.
After being out of shape and overweight, Sheehan felt compelled to make a change for the best, to improve her physique, her self-esteem and – more importantly – to remain medication-free. "Drink More Wine: How I Lost 60 Pounds! " outlines steps she took to make that happen. First was joining a gym and getting a personal trainer who talked about nutrition, making good nutrition choices and working hard to lose weight the old-fashioned way. One compromise Sheehan wouldn't make was to give up a daily glass of red wine. In fact, she cites, various studies have shown that red wine, in moderation, helps heart health and mental health and may reduce risk of kidney disease.
Chapters include What To Eat, and What Not To Eat, What To Wear and chronicle her triumphs at the gym, and the rewards of her efforts. The book includes helpful appendixes on nutritional guidelines, a sample daily food diary, tips for choosing the right gym, what to eat when out at restaurants, and even a recipe for chicken and roasted vegetables. Ultimately, the author learns that the key to losing weight is not just short-term dietary changes but embracing a healthier lifestyle to change her metabolism and that includes regular physical activity.
Author Mary Anne Sheehan grew up in the 1960s/1970s, a time before fast-food restaurants dotted the neighborhood landscape, and a time when it was commonplace for people to walk or bike to their destinations. She continues to look forward to an increased level of physical activity, remaining medication-free, and looking her best at her daughter's wedding in September.
----------
For additional information, please visit http://www.sheehanbook.com
Drink More Wine: How I Lost 60 Pounds
Mary Anne Sheehan
Dog Ear Publishing
ISBN: 978-1-4575-3445-4 128 pages $14.95 US
Available at Ingram, Amazon.com, Barnes & Noble and fine bookstores everywhere.
About Dog Ear Publishing, LLC
Dog Ear Publishing offers completely customized self-publishing services for independent authors. We provide cost-effective, fast, and highly profitable services to publish and distribute independently published books. Our book publishing and distribution services reach worldwide. Dog Ear authors retain all rights and complete creative control throughout the entire self-publishing process. Self-publishing services are available globally at dogearpublishing.net and from our offices in Indianapolis.
Dog Ear Publishing – self-publishing that actually makes sense.