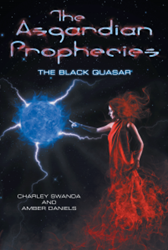 This is the first novel for siblings Amber Daniels and Charley Swanda, who grew up in a small Oklahoma town.
ODIN,Okla. –
(PRWEB) May 07, 2015 -- Fifteen-year-old Charles wakes up yet again to a recurring nightmare with thousands of circling spheres and an infant's cry. But this time it's different because it's his 15th birthday, and a new adventure, described in this new book released by Dog Ear Publishing, is about to start. Growing up in his small Oklahoma town with his mom, Charles never knew his dad who was believed to be dead. A best friend who is a drug dealer doesn't help his reputation. But things change forever when he learns the secret about his true identity.
"The Asgardian Prophecies: The Black Quasar" stars the young man, who learns the woman he thought was his mother is not his mother, and his father was a member of Odin's guard but may be a traitor, and Kletrix was sent to Earth to protect him. Even his own name is a lie: He is actually Magnus, a child of prophecy, who receives his father's ring – and its power to create a quasar – on that fateful birthday. When an accident at the mall almost kills a school athlete because of the ring, Magnus is whisked away to Asgard to learn how to use his powers properly.
His new world contains fellow immortal warriors of the Odinite, also known as Berserkers, but not all seem to be on his side, as one beautiful female warrior may either like him or want to kill him. Soon he learns that his power and courage will be needed to save the nine worlds from Loki and his ally, the evil goddess Hel, who want to rule instead. They hold the power – knowledge– to lure Magnus from his path and destroy the worlds instead. A rescue mission back at Magnus' Earthly home unearths traitors, and a final battle will determine the fate of the nine worlds and Magnus' destiny.
This is the first novel for siblings Amber Daniels and Charley Swanda, who grew up in a small Oklahoma town. Both have written all their lives, including music, poetry and short stories. They hope this will be the first of many novels they write.
----------
For additional information, please visit http://www.thefatkidsbooks.com
The Asgardian Prophecies: The Black Quasar
Charley Swanda and Amber Daniels
Dog Ear Publishing
ISBN: 978-1-4575-3543-7 224 pages $10.99 US
Available at Ingram, Amazon.com, Barnes & Noble and fine bookstores everywhere.
About Dog Ear Publishing, LLC
Dog Ear Publishing offers completely customized self-publishing services for independent authors. We provide cost-effective, fast, and highly profitable services to publish and distribute independently published books. Our book publishing and distribution services reach worldwide. Dog Ear authors retain all rights and complete creative control throughout the entire self-publishing process. Self-publishing services are available globally at dogearpublishing.net and from our offices in Indianapolis.
Dog Ear Publishing – self-publishing that actually makes sense.