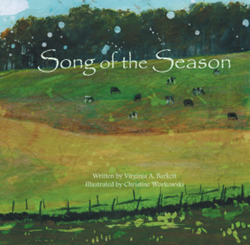 Richly textured illustrations by Christine Workowski help tell the story with their vivid colors and images.
FINCASTLE, Va. (PRWEB) April 08, 2015
Farms have their own rhythm and life, and simply looking out the car window tells a story all its own. A child explores the seasons of a farm – in all their glory – in this new children's book released by Dog Ear Publishing. Experience the different sights, sounds and smells of a dairy farm through each passing month.
"Song of the Season" follows the calendar year, starting with the bitter wind and bare trees of January and February as cows munch on dry hay and the world around them is lonely and cold. Life starts again in March and April as rain brings rain boots and mud, ushering in May and increased activity on the farm with busy tractors, strutting turkeys and newborn fawns. June and July mean fresh-cut hay, heat and the vibrant growth of summer. Fall leads to foggy mornings, colorful leaves and fragrant manure on the fields. Finally, winter ushers in brilliant blue skies, frost and hungry geese searching for kernels of corn in harvested cornfields.
Richly textured illustrations by Christine Workowski help tell the story with their vivid colors and images, and the rhyming words gently guide readers seamlessly through the changing seasons of a dairy farm, its residents and wildlife in the nearby hills.
Author Virginia Barkett lives on a farm in southwest Virginia with her husband and their four children. The University of Richmond graduate has a master's degree from Florida State University and has worked as the health educator at Ole Miss and at Hollins University. Barkett enjoys outdoor pursuits such as hiking, kayaking and skiing and runs summer day camps where children learn to ride horses and interact with a variety of farm animals on her family's farm, Sunny Side Ranch. She has served as a coach and volunteer with children.
Barkett and illustrator Christine Workowski met on the sidelines of a soccer practice and have been good friends ever since. Workowski, a designer for The Bacova Guild, has been a freelance graphic designer, photographer and painter. The New Jersey native graduated from the University of Delaware with a degree in visual communication. She has lived in the mountains of Virginia for the last 25 years.
----------
For additional information, please visit http://www.SongoftheSeason.com
Song of the Season
Virginia A Barkett
Dog Ear Publishing
ISBN: 978-1-4575-3453-9 44 pages Softcover $11.99 US
ISBN: 978-1-4575-3650-2 44 pages Hardcover $21.99 US
Available at Ingram, Amazon.com, Barnes & Noble and fine bookstores everywhere.
About Dog Ear Publishing, LLC
Dog Ear Publishing offers completely customized self-publishing services for independent authors. We provide cost-effective, fast, and highly profitable services to publish and distribute independently published books. Our book publishing and distribution services reach worldwide. Dog Ear authors retain all rights and complete creative control throughout the entire self-publishing process. Self-publishing services are available globally at dogearpublishing.net and from our offices in Indianapolis.
Dog Ear Publishing – self-publishing that actually makes sense.