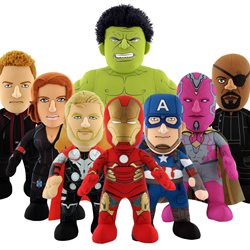 Our motto is 'Put your passion in play,' and Marvel's ingenious creations make that a thrilling reality.
Philadelphia, PA (PRWEB) April 01, 2015
What's the only thing more compelling than Nick Fury or the Black Widow in Marvel's The Avengers? Incredibly true-to-life—and cuddly—10-inch-tall plush figure versions! Bleacher Creatures, the innovative licensing manufacturer known for its true-to-life plush figures of pro-sports stars and comic characters, will launch a brand-new line of Marvel plush figures in May with the release of Marvel's Avengers: Age of Ultron. Other initial characters from the hugely anticipated film receiving the Bleacher Creatures plush treatment include Thor, Iron Man, The Hulk, Captain America and Hawkeye. The Bleacher Creatures Avengers plush will be available for pre-order starting April 1, and will be delivered by May 1, the movie's premiere date.
Also in May, Bleacher Creatures and Marvel will debut plush figures from Marvel's Ant-Man, the new Super Hero film starring Paul Rudd as a con man who finds his inner hero when he dons a suit that enables him to shrink in size but increase his strength.
Additional Bleacher Creatures/Marvel surprises, including characters from Marvel television series and comic-inspired characters, will launch in August and September 2015.
"We're so excited to be working with the creative geniuses at Marvel as we transform their larger-than-life—or in the case of Ant-Man, smaller-than-life—Super Heroes into adorable yet faithful plush figures," says Matthew Hoffman, founder and president of Bleacher Creatures. "Our motto is 'Put your passion in play,' and Marvel's ingenious creations make that a thrilling reality."
###
About Bleacher Creatures
Bleacher Creatures is an innovative licensing manufacturer that produces a variety of children's toys through partnerships with professional sports leagues and entertainment companies. Bleacher Creatures are incredibly true-to-life plush figures of the greatest athletes and entertainment icons, allowing young fans (those who are young at heart) to put their passion in play. Bleacher Creatures' goal: to encourage fun, inspiration and, of course, play among fans of any age.
About Marvel Entertainment, LLC
Marvel Entertainment, LLC, a wholly-owned subsidiary of The Walt Disney Company, is one of the world's most prominent character-based entertainment companies, built on a proven library of more than 8,000 characters featured in a variety of media over seventy-five years. Marvel utilizes its character franchises in entertainment, licensing and publishing. For more information, visit marvel.com.© 2015 MARVEL