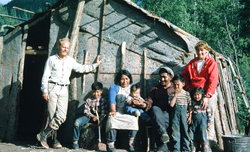 Nine miraculous experiences that saved our lives six times, convinced us all that there is Spiritual Guidance for those who keep up Hope.
Victoria, British Columbia, Canada (PRWEB) April 12, 2015
Commonly used words in conversations or thoughts are often the cause of failure because the subconscious mind is always misled by negative logic of the conscious mind. This confusion leads to wrong decisions at critical moments. Negative statements and fear would confuse the subconscious mind and spoil desired results and goals, simply by forming filters that condition all hopes and expectations to false limitations. http://www.FredTheCoach.com
Fred also warns that negative commands, or thoughts, would have emotional effects on children, pets and even plants. The ability to believe, hope and love originates in the Super-conscious mind, while the conscious mind deals with facts and logical reasoning only. Fred reveals the keys to the highest level of mind in all speeches for a happier and more successful life.
Fred discovered that the harmony between all three levels of mind can be greatly improved by expressing desired results instead of fears of failure. The subconscious mind can be programmed by focus and belief but it does not follow any negative logic.
Fred Freitag is a Certified Law of Attraction Practitioner, registered by the Global Sciences Foundation. He has completed the Six Month Professional Speaking eCourse of the Motivational Speaker Academy and is the Author of the books: "FOLLOW YOUR BLISS AND REACH YOUR DREAM", "POETRY OF ROMANCE AND ADVENTURE", and the audio CD "The Keys To True Self For Success And Happiness".
As Personal Development Expert and Motivational Speaker, Fred Freitag is now available to perform throughout Western Canada and the USA.
Fred Freitag has studied under Rhonda Byrne, Dr. Lee Pulos, Dr. Joe Vitale, Dr. Deepak Chopra, and Bob Proctor.
Fred is convinced that anyone can achieve desired results with the understanding how to function in all three levels of mind simultaneously - - and reaching the high frequencies and amplitude needed to manifest these goals.
Fred Freitag looks forward to the event in Victoria, BC on April 29 at 6:30 PM to 8:30 PM at the Greater Victoria Public Library in the Community Room. The title of this speech is: The Keys to Success, Confidence and Happiness. Tickets are available now on-line through Eventbrite. To find the page easily, just copy this link or select it on Fred's website.
http://www.eventbrite.com/e/the-keys-to-success-confidence-and-happiness-tickets-16118035478?aff=es2
On his kayak expedition to the Arctic Ocean, Fred had encountered nine miraculous experiences. Six times it saved his life in most hopeless situations. He is convinced that he was protected by Inner Guidance.
The Sub-Topics of his Presentation are:
Beyond Sensory Perception
The Universal Law of Attraction
The Three Levels of the Human Mind
The Evidence of Inner Guidance

- and the following subjects will be addressed and explained:
"Are our concepts of reality solid or relative?"
"The functionality of the three levels of mind"
"The secret keys to the Greatest Power within"
"Focus and belief, the programming tools"
"What is the super-conscious connection?"
"Why is there power in good intention?"
"The complexity of the subconscious mind"
"How my life was saved six times on my kayak expedition"
For any questions you might have about Fred Freitag's events or the THREE DAY SEMINAR, feel free to send your email to FredTheSpeaker(at)gmail(dot)com