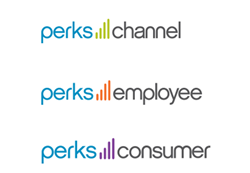 This expansion and restructure of our business into 3 solution areas ensures that our clients have the most effective and efficient incentive programs. -Jeff Ford
Little Rock, AR (PRWEB) April 02, 2015
Perks, global provider of innovative incentive programs, rewards and recognition solutions and consumer loyalty programs announces a major business expansion for 2015, effective immediately. Perks is now offering 3 unique engagement solution sets focused on the specific areas of: employee, channel, and consumer loyalty. Additionally, to better support the growing Latin America market, Perks has opened a new business office in Miami, Florida and plans on expanding the Executive team in the very near future. To view Perks' new solution areas, please visit the updated website here.
These changes ensure that Perks stays at the cusp of technology trends that impact their clients, the overall growth of the technology industry, and that they continue to satisfy the ever-evolving engagement and loyalty needs of our clients. Perks vision is to deliver a solid business strategy combined with cloud technology to ensure our clients align their incentive programs to market trends such as: shifts in B2B buying behaviors, the impact of the cloud in the channel ecosystem and changes in how employees view the candidate experience.
Perks CEO Jeff Ford has long envisioned these changes and offers the following statement:
"We are constantly analyzing and researching trends in the incentive and loyalty marketing industry. This expansion and restructure of our business into 3 solution areas ensures that our clients have the most effective and efficient incentive programs, the most advanced technology solutions, and account management that is laser-focused on solving our client challenges. When creating any new business model, we are constantly keeping the end-user in mind."
By restructuring their business units, adding new locations and enhancing services that accommodate upcoming industry transformations, Perks continues to be one step ahead of the developing and future needs of clients. Download our recent White Paper: 2015 Trends in the Technology Channel for more details on these changing trends.
Founded in 2001, Perks' mission is to drive long-term, sustainable behavior change that supports the business goals of the enterprise. Perks specializes in strengthening Employee, Channel, and Consumer Loyalty with uniquely customizable options. Utilizing the Perks' Science of Motivation™ methodology, we provide your business with the tools necessary to motivate the people who matter most to your organization. With more than 5 million active users and a listing on the Salesforce AppExchange, Perks creates best-in-class employee, channel partner, and consumer loyalty programs with tailored strategies and program design to achieve your go-to-market objectives. When you partner with Perks we ensure that you receive the right infrastructure and processes to streamline program administration and increase productivity, satisfaction, and overall engagement levels.