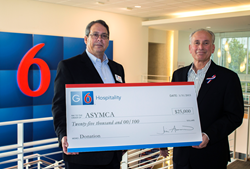 (G6 Hospitality's) support, along with the passion their leadership and employees have for serving our country's heroes will provide a lasting impact in the military communities we serve.
Dallas, Texas (PRWEB) April 02, 2015
G6 Hospitality, known for its iconic economy lodging brands, Motel 6 and Studio 6 in the U.S. and Canada, and The Armed Services YMCA (ASYMCA) are partnering to make a difference in the lives of our country's junior enlisted service members and their families. The new partnership serves both ASYMCA's mission to make military life easier, and G6's initiative to make an impact on the ground level in the military communities they are a part of. The announcement was made during an official ceremony where G6 also presented ASYMCA with a $25,000 donation.
"We are excited to partner with ASYMCA and provide additional resources that further support its efforts, programs and initiatives." said Jim Amorosia, President and CEO of G6 Hospitality. "Early this year, we announced our commitment to support the military communities and serve those who have made so many sacrifices for our country, and this is just another step in that direction."
In December 2014, G6 donated more than $4,000 to support the ASYMCA Killeen Branch's holiday programs. These funds were distributed to needy military families in the Killeen community who were able to purchase gifts and toys for their children and celebrate a joyful holiday.
"I want to thank you for your support. [Our family] would like you to know that you are such a blessing for our family. We were not really looking forward to Christmas," shared the Robinson Family, who received gift cards to purchase toys for their family. "We tried to look at what December 25 is really about, thankful for Jesus Christ being born to make life better and being thankful for what we have. You have given my children even more reason to be thankful and something to open up on that special day. Thank you again and you will never know how grateful we are."
"We are so thankful to have partnered with a company whose philanthropic values and mission so closely aligns with ours," said Bill French, ASYMCA President and CEO. "Their support, along with the passion their leadership and employees have for serving our country's heroes will provide a lasting impact in the military communities we serve."
Part of G6's unique business and philanthropic model rests on the idea that it takes people to become great, not just assets and resources. Therefore, G6 is supporting ASYMCA's community initiatives and engaging great leaders in those communities to make a great impact. In addition to the financial support, G6's employees will also serve as volunteers to help ASYMCA initiatives and programs, reaching the more than 500,000 service members and their families the ASYMCA serves each year. Volunteers with G6 will have opportunities to interact with the service members and military families while volunteering, and see the impact they are making first hand.
"It's easy for us to give rooms, but it is really important for us to get more involved, and for our employees to pour themselves into our communities," said Nikki Kresse, VP of Corporate Human Resources. "We want to make an impact with more than our wallets."
The ASYMCA depends on more than 15,000 volunteers each year to help implement programming and provide support at its 34 branch and affiliate locations, many located on military installations. G6 employees will participate in the more than 127,000 hours ASYMCA volunteers donate each year.
About G6 Hospitality LLC
G6 Hospitality LLC owns, operates and franchises over 1,200 economy lodging locations under the iconic Motel 6 and the extended stay Studio 6 brands in the U.S and Canada, and Hotel 6 and Estudio 6 brands in Latin America. Headquartered in Dallas (Carrollton), Texas, G6 Hospitality employs nearly 10,000 team members across the U.S. and Canada. For more information please visit G6Hospitality LLC.
About the Armed Services YMCA
The Armed Services YMCA (ASYMCA) is a nonprofit organization which has been dedicated to making military life easier for more than 150 years. Impacting over 500,000 families annually, the ASYMCA offers low and no cost programs through 200 service centers at 34 branch and affiliate locations serving 45 of the largest military installations nationwide. Of the 1.2M active duty military stationed in the US, approximately 82% are located where the ASYMCA has a branch or affiliate nearby to help make military life easier. The ASYMCA does not receive government funding, and does not charge dues or membership fees for their programs. The ASYMCA is proud of our fiscal responsibility, and that .89 of every dollar donated goes directly to support programs. We are designated as a top-rated charity by CharityWatch and a proud recipient of a three star rating from Charity Navigator. Your tax deductible donation (Tax ID #36-3274346) to the ASYMCA will make a significant impact on the lives of junior enlisted service members and their families. Please visit asymca.org to learn more.
###