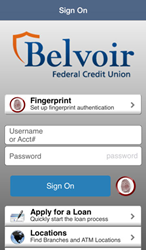 Woodbridge, VA (PRWEB) April 02, 2015
Belvoir Federal Credit Union's Mobile Banking Application (App) now supports Biometric Authentication Technology for certain Apple iOS devices, allowing members to securely access their accounts with a scan of their fingerprint.
Members using Apple iPhone5s, iPhone6, iPhone6+, and iPad Air2 models will be able to log in to the Belvoir Federal Mobile Banking App by utilizing Apple's TouchID fingerprint reader. The advanced technology behind Biometric Authentication will prevent unwanted and unauthorized access to member accounts.
"Belvoir Federal is growing with technology and clearly understands the need for protection of member data with a worldwide membership. Biometric Authentication technology on our mobile banking app is protection at its best with the simple scan of your fingertip," states Patricia Kimmel, Belvoir Federal's President and CEO. "This enhancement to our mobile banking app is not only secure, but it also saves our members' time and promotes ease of use."
With Belvoir Federal's Mobile Banking App, all members have the ability to receive account history, balance updates, transfer funds, schedule bill payments, make mobile deposits and more. For full details, visit http://www.BelvoirCreditUnion.org/eservices/mobile#apps and click the mobile app button.
About Belvoir Federal Credit Union
Belvoir Federal is a member-owned, full-service financial institution that provides the foundation for the financial success of our Members. Belvoir Federal, a not-for-profit organization, has served the Fort Belvoir and U.S. Armed Forces community since 1946 and has been awarded Best Places to Work in Virginia for 2014 and 2015. For more information about Belvoir Federal, please visit http://www.BelvoirCreditUnion.org.
###