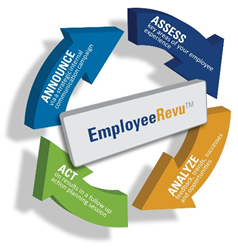 It is critical to your financial success that your dealership provides the customer experience that earns the excellent rating.
Baltimore, MD (PRWEB) April 06, 2015
Creating an environment where employees are happy is vital in making customers happy. EmployeeRevu™ is an employee survey that addresses the important elements of the employee experience within the automotive industry and collects the internal feedback necessary to examine and make meaningful improvements. The survey is comprised of the following items:

Employee Satisfaction: Understand issues that contribute to retention and performance.
Employee Engagement: Measure the elements most important to employee experience.
Culture Assessment: Indicate how well employees know and are committed to the values of the organization.
Manager Relationship: Measure leadership engagement and effectiveness.
The CSI Gap: Identify gaps that exist in your employees' perception and your customers' reality of service delivery within your dealership. Read more here on the CSI Gap.
Car buyers and service customers routinely provide feedback about their experiences with dealerships. Coupling this data with employee feedback and perceptions offer the opportunity to deliver a seamless customer experience. "When so much is riding on CSI scores, the importance of customer service needs to be woven into the fabric of a dealership. It is critical to your financial success that your dealership provides the customer experience that earns the excellent rating, and just as critical that you genuinely strive to correct and learn from those that aren't." says Chip King, Founder and Managing Partner.
By turning employee satisfaction data into actionable information, EmployeeRevu™ helps dealers improve customer and employee relationships. The product's methodology provides dealers with a plan that they can follow, to ensure their staff is aligned with what the customer and company values, using EmployeeRevu's™ four step methodology.
EmployeeRevu™ is featured among CallRevu's other Products and Services, aimed at stopping the biggest profit leak for auto dealers—the phone. CallRevu's products ensure that dealers never miss an opportunity and provide outstanding customer experiences in every interaction.
About CallRevu
Tracking and monitoring millions of calls on over 100,000 lines, CallRevu is the industry standard for phone performance in automobile dealerships. Offering services to over 1,000 dealer partners in North America and Canada, CallRevu helps automobile dealers improve issues exposed by call tracking and monitoring, while enhancing their customers' experiences. CallRevu offers a 15 day alert trial at no cost for interested dealers. The sign up process takes minutes and clients are able to keep existing lines. Please visit our website for more information.