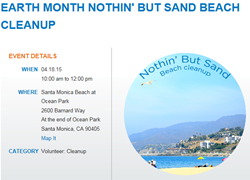 Rancho Cucamonga, CA (PRWEB) April 02, 2015
RDI Engineering employees and their family members will participate in the Earth Month Nothin' But Sand Beach Cleanup, hosted by environmental organization, Heal the Bay. The cleanup will be at Santa Monica Beach on Saturday, April 18 at 10 a.m. RDI Engineering believes in the well-being of the community and the environment, and supports environmental awareness to help protect the ocean from pollution. During the cleanup, employees will remove ocean-bound debris, learn about the causes and dangers of ocean pollution and how to reduce it
"This year, RDI is devoted to giving back to the community and protecting the environment," said CEO, Hector Mendoza Jr. "It is crucial to take the necessary actions to prevent pollution from causing harm to our ocean and marine organisms. RDI is excited to participate in this cleanup and looks forward to working with Heal the Bay" said Mendoza.
RDI Engineering also supports community and environment development by promoting efforts in science, technology, engineering, and math (STEM) and higher education. "Fellow coworkers are excited to participate in this cleanup. It's motivating to know that RDI supports such an important cause" said Field Supervisor, Carlos Alatorre.
Heal the Bay is a volunteer-driven nonprofit organization based in Southern California, dedicated to protecting the health and safety of local beaches and ocean. The organization issues water quality grades for more than 500 beaches each week, operates the Santa Monica Pier Aquarium, and orchestrates monthly beach cleanups and other volunteer programs. The beach cleanups are open to the public on every third Saturday of each month. This month's cleanup will coincide with Earth month. For more information on how to volunteer for the Earth Month Nothin' But Sand Beach Cleanup visit healthebay.org.
###
About RDI Engineering
RDI Engineering is a certified minority-owned company that was founded by CEO, Hector Mendoza Jr. in 2009. RDI-Engineering offers a variety of services for the utility and telecommunications industry. From highly effective project management to the latest in architecture, engineering and construction, all resources are used to achieve the highest quality of customer satisfaction.