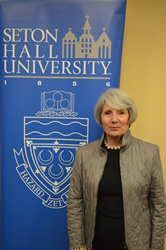 South Orange, NJ (PRWEB) April 03, 2015
Professor Jo-Renee Formicola, from the Department of Political Science is the recipient of the "Woman of the Year" award. The honor recognizes outstanding leaders at Seton Hall who have made significant contributions to the success of women at the University. It was given as part of the celebration of Women's History Month and the Seton Hall University Women's Conference. The award was presented by Senior Associate Provost Joan Guetti, at the Women's Conference luncheon on March 27, 2015.
Dr. Guetti described Formicola's passion and work ethic. "She shows great consideration and respect," said Guetti, who described Formicola as a role model for everyone at the University.
A member of the University community for more than 31 years, Formicola was the first female selected as the Acting Dean of the College of Arts and Sciences. She received numerous recognitions during her career including being named as New Jersey's Political Scientist of the Year. In addition to her service as Acting Dean of the College of Arts and Sciences and department chair, she is a highly accomplished author and scholar. The most compelling reason for her selection as Woman of the Year is the constructive mentorship she has provided to both students and faculty for over three decades.
In her acceptance remarks Formicola said, "This is very gratifying, but unnecessary, for something that you do naturally." She advised students to get the most out of their education by reading and minimizing their time on social media. She also emphasized that no one can do everything alone and that Seton Hall itself is the result of the group efforts of its entire community.
Formicola continues to inspire not only through her scholarship and classroom teaching, but also through life lessons of perseverance. "I got my Ph.D. when I was 40. I couldn't have done it without the support of others."
As to the role and contributions of women, she said, "The right question is not about what women want, it's about what women deserve."
ABOUT SETON HALL UNIVERSITY
One of the country's leading Catholic universities, Seton Hall University has been developing students in mind, heart and spirit since 1856. Home to nearly 10,000 undergraduate and graduate students and offering more than 90 rigorous majors, Seton Hall's academic excellence has been singled out for distinction by The Princeton Review, US News & World Report and Bloomberg Businessweek. Seton Hall, which embraces students of all religions, prepares its graduates to be exemplary servant leaders and global citizens. A founding member of the new Big East Conference, the Seton Hall Pirates field 14 NCAA Division I varsity sports teams. The university's beautiful main campus is located in suburban South Orange, New Jersey, and is only 14 miles from New York City – offering its students a wealth of employment, internship, cultural and entertainment opportunities. The university's nationally recognized School of Law is prominently located in downtown Newark. For more information, visit http://www.shu.edu.