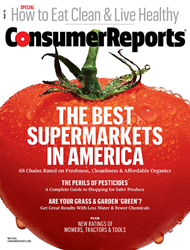 Yonkers, NY (PRWEB) April 02, 2015
In Consumer Reports' new supermarket survey, Wegmans, Publix, and Trader Joe's remain at the top of the Ratings of 68 of stores nationwide. Also earning high overall satisfaction scores were Fareway Stores (Midwest), Market Basket (Northeast), Costco, and Raley's. Once again, America's largest grocer, Walmart Supercenter, landed at the bottom, along with A & P and Waldbaums, two Northeast chains.
The report, "America's Best, Freshest Supermarkets," which includes the complete Ratings of grocery stores, is available in the May 2015 issue of Consumer Reports and at http://www.ConsumerReports.org.
Consumer Reports National Research Center asked 62,917 subscribers about overall satisfaction with their supermarket shopping experiences. Their responses to the survey were based on 111,208 visits to traditional supermarkets, warehouse clubs, supercenters, and limited-assortment stores between March 2013 and July 2014. The top-rated supermarkets also received high scores for overall freshness – quality of produce, meats, poultry, bakery items, and store-prepared foods. They also stood out for staff courtesy and sparkling clean shopping environment. Walmart Supercenter, consistently one of Consumer Reports' lowest-rated grocers since 2005, earned low marks in every category other than price.
"Once upon a time, low prices, checkout speed, and variety were attributes that mattered most to supermarket shoppers," said Tod Marks, senior project editor at Consumer Reports. "While these aspects are still critical, more and more consumers demand better fresh foods, more organics, and a greater variety of locally made and grown foods."
Many Americans see their supermarket as a partner in maintaining a healthy lifestyle. As a result, consumers are focusing more on fresh foods, organics, and store-made meals and less on processed foods with long ingredient lists, preservatives, and unpronounceable additives. Supermarkets are taking seriously their new role in as wellness advisers. Today, around 95 percent of grocery chains have a registered dietician on staff to assist with merchandising and marketing decisions. And, more than 75 percent of stores say they carry more locally grown or made goods than they did in 2012.
In addition to traditional characteristics such as service and cleanliness, Consumer Reports asked subscribers to rate their grocers on the selection of local produce and the price of organics at their stores. Only around six in 10 were completely or very satisfied with the quality of their store's produce, meat, and poultry offerings, according to Consumer Reports' survey.
Just three of the chains – Wegmans and national chains The Fresh Market and Whole Foods – earned stellar produce scores. Seventeen were below average. Eighteen retailers received low scores for produce variety, notably two big warehouse clubs – Sam's Club (part of Walmart) and BJ's Wholesale Club (in the East) – as well as Target and Target Supercenters.
Consumer Reports also asked subscribers about the prices of organic options available at their stores: Trader Joe's, Wegmans, Costco, and Sprouts Farmers Market received high marks. Just how much does it cost to go organic? Consumer Reports shopped by for 15 similar organic and conventional goods including bananas, milk, and chicken, at eight national, regional, and online grocers. The study revealed that organic items cost 47 percent more, on average, although in some cases, some of the organic versions cost the same or less than the conventional ones. For example, organic Grade A maple syrup cost 11 percent less than the conventional version at Price Chopper.
When it came to prepared food and baked goods, about half of the respondents to Consumer Reports survey were highly satisfied with those offered by their store. Standouts for prepared foods were Wegmans, Publix, Costco, Whole Foods, and Fresh Market. Pathmark and Waldbaum's in the Northeast, and Aldi, in the eastern U.S., received low marks in that category.
For more information on America's best and worst supermarkets, pick up the May 2015 issue of Consumer Reports, on newsstands now, or visit http://www.ConsumerReports.org. The feature also decodes common terms such as "fresh," "natural" and more.
About Consumer Reports
Consumer Reports is the world's largest and most trusted nonprofit, consumer organization driving marketplace change to improve the lives and amplify the voices of consumers. Founded in 1936 Consumer Reports has achieved substantial gains for consumers on food and product safety, financial reform, health and other issues. The organization has advanced important policies to cut hospital-acquired infections, prohibit predatory lending practices and combat dangerous toxins in food. Consumer Reports independent testing and rating of thousands of products and services is made possible by its member-supported 50 plus labs, state-of-the-art auto test center and consumer research center. Consumers Union, a division of Consumer Reports, works for pro-consumer laws and regulations in Washington, D.C., the states, and in the marketplace. With more than eight million subscribers to its flagship magazine, website and other publications Consumer Reports accepts no advertising, payment or other support from the companies whose products it evaluates.
— 30 —
APRIL 2015
© 2015 Consumer Reports. The material above is intended for legitimate news entities only; it may not be used for advertising or promotional purposes. Consumer Reports® is an expert, independent nonprofit organization whose mission is to work for a fair, just, and safe marketplace for all consumers and to empower consumers to protect themselves. We accept no advertising and pay for all the products we test. We are not beholden to any commercial interest. Our income is derived from the sale of Consumer Reports®, ConsumerReports.org® and our other publications and information products, services, fees, and noncommercial contributions and grants. Our Ratings and reports are intended solely for the use of our readers. Neither the Ratings nor the reports may be used in advertising or for any other commercial purpose without our permission. Consumer Reports will take all steps open to it to prevent commercial use of its materials, its name, or the name of Consumer Reports®.