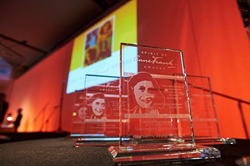 New York, NY (PRWEB) April 15, 2015
The Anne Frank Center USA is proud to announce the winners of the 2015 Spirit of Anne Frank Awards, which honor students, educators, and citizens whose work embodies understanding, equality, and mutual respect among diverse groups.
This year's winners come from all around the country and have committed themselves to a range of vital issues from immigration reform to sex slavery. Four college-bound students will be among those honored on June 15, 2015 at The Anne Frank Center USA's Gala, which will take place at ESPACE in New York City. The event is held annually on or near Anne Frank's birthday. The young writer would have been 86 years old on June 12.
"These students and citizens exemplify Anne's sense of hope and determination," says Yvonne Simons, Executive Director of The Anne Frank Center USA. "They remind us that the world is a bleak place without others there willing to learn, to care, and most importantly, to act."
This year's student and educator awardees include:
The Leah and Edward Frankel Scholarship Award
Carolina Dalia Gonzalez
Our Lady of Lourdes Academy; Miami, FL
"Anne Frank dealt with isolation in the Secret Annex, just as undocumented youth face isolation in their everyday lives," wrote Carolina Dalia Gonzalez in her application essay. As the granddaughter of Cuban immigrants, Ms. Gonzalez grew up in Miami with a keen understanding of the challenges and alienation many new arrivals to America face, especially children. This knowledge prompted her to found Deferred Action for Dreamers, whose mission it is to help young, undocumented immigrants in the South Florida community defer deportation and gain employment authorization. To date the organization has helped over 2,000 applicants from the ages of sixteen to thirty-one.
ING Scholarship Award
Kiran Sridhar
Lick Wilmerding High School; Woodside, CA
In the sixth grade, Kiran Sridhar volunteered at a free meals program at a local San Francisco church, an experience that has influenced him every day since. "There were people who looked just like me and who had similar aspirations," he explains. "Yet, as they told me, hunger was a barrier to achieving their dreams; when they couldn't guarantee three meals a day, their focus could not be centered on bettering themselves or their community." Shortly after, Mr. Sridhar founded Waste No More, a nonprofit that connects restaurants, hotels, and caterers to charities. The organization continues to grow years later, releasing its first digital app in January.
Outstanding Student Award
Caitlyn Chang
Bloomington High School South; Bloomington, IN
"My introduction to the Imprint Project was rather sad," confessed Caitlyn Chang in her application essay. Because of lack of interest and internal conflict, "it was the last meeting of the chapter." Luckily for the organization – which raises money to free women and girls from sex trafficking – Ms. Chang was not dissuaded. Instead she started the first ever high school chapter of the Project at Bloomington High School South in Indiana. Since its first meeting in August of 2013, the group has had as many as 48 members and raised $3500 through trunk shows, making it the most successful chapter of the Imprint Project to date.
Outstanding Student Award
Sydney Nicole Marcus
Poly Prep; New York, NY
As a varsity athlete and dancer, Sydney Marcus was often exposed to intolerant language and ideas by her fellow teammates. Inspired by Anne Frank and her own grandmother, she decided to do something about it. First, she became an ambassador for Athlete Ally, an organization of straight athletes that supports LGBTQ individuals in sports. She has also raised money and awareness through dance concerts and by coordinating monthly community meetings at her school called L.E.A.D., which stands for listen, educate, and appreciate difference.
Sheri P. Rosenberg
Outstanding Educator Award
Benjamin N. Cardozo School of Law; New York, NY
As the daughter of a Holocaust survivor, Sheri P. Rosenberg is a tireless advocate for the rights of minorities and vulnerable populations, with a special focus on victims-survivors of genocide and mass atrocities. As an Associate Clinical Progress of Law at Benjamin N. Cardozo School of Law, she has supervised landmark victories for minority rights toward combating racism, discrimination, and intolerance around the globe. Specifically, Ms. Rosenberg and her students have represented clients before the European Court of Human Rights and the African Commission on Human and Peoples Rights.
This Spring marks the 70th anniversary of the end of World War II in Europe. This year's event - which is centered on the "Heroes, Helpers, and Liberators" of that war - will also honor Robert M. Edsel, the Founder and Chairman of the Board for the Monuments Men Foundation for the Preservation of Art, with the Anne Frank Human "Writes" Award; Stephen A. Cohen with the Anne Frank Spirit of Commitment Award; Erwin Pearl with the Anne Frank Distinguished Humanitarian Award; and the Helpers, Heroes, and Liberators of World War II with the Anne Frank Distinguished Advocate Award.
For more information about The Spirit of Anne Frank Awards or to attend the award ceremony, please contact Sylvia Spitalnick at sspitalnick(AT)annefrank.com.
The Anne Frank Center USA, a partner of the Anne Frank House, uses the diary and spirit of Anne Frank as unique tools to advance her legacy, to educate young people and communities in North America about the dangers of intolerance, antisemitism, racism and discrimination, and to inspire the next generation to build a world based on equal rights and mutual respect.
ING Financial Services LLC is an indirect U.S. subsidiary of ING Group N.V. ("ING"), a global financial services company with a network spanning 40 countries. ING has 53,000 employees helping its 33 million customers manage their money and meet financial goals. ING, in the US, offers a full array of wholesale financial products, such as commercial lending, and a full range of financial markets, products and services through ING Financial Holdings Corporation, and its affiliates.