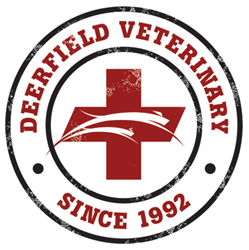 Pet owners turn to Deerfield because they trust our extensive medical expertise and consistent care.
Springfield, Mo. (PRWEB) April 02, 2015
Deerfield Veterinary Hospital recently passed a meticulous evaluation to earn renewed accreditation from the American Animal Hospital Association (AAHA). It is a distinction shared by only 12 to 15 percent of veterinary practices in the United States and Canada. Unlike human hospitals, animal hospitals are not required by law to be accredited.
To complete the evaluation, AAHA officials examined the Springfield veterinary hospital on some 900 detailed quality standards, which covered such areas as patient care, advanced diagnostic services, staff training and pain management. The process included an on-site assessment and a review of Deerfield's practice protocols, medical equipment, facilities and client service for pet owners.
Deerfield Veterinary Hospital's AAHA Status
By maintaining AAHA accreditation, Deerfield solidifies its position as a premier animal hospital in Springfield, Mo. Deerfield's veterinarians and staff are extensively trained and are committed to providing medical care that helps ensure pet patients enjoy the healthiest, happiest lives possible.
As an AAHA-accredited animal hospital that is continually at the forefront of advanced veterinary medicine throughout a pet's life cycle, from vaccinations and spay or neuter services for younger animals to senior cat and elderly dog care, Deerfield is recognized among the best veterinary hospitals in the Midwest.
"Pet owners turn to Deerfield because they trust the consistent, extensive medical expertise and concern our entire health care team provides," says Dr. Denise Roche, a managing partner and veterinarian at Deerfield.
About AAHA Accreditation
AAHA officials review and update evaluation criteria on a continual basis to maintain accredited practices on the leading edge of veterinary excellence. A veterinary practice must pass further evaluations every three years in order to maintain accreditation.
Pet owners are encouraged to look for the red and white AAHA logo on display to confirm that a particular animal hospital has earned accreditation. The AAHA is the only organization in the United States and Canada that accredits veterinary practices.
Deerfield Veterinary Hospital is a full-service pet hospital. Services include medical and surgical care, dental procedures, on-site lab diagnostics and blood testing, senior screenings and boarding services. The hospital staff uses both X-Ray and ultrasound technology and the latest, safest anesthetics available. For more information, visit deerfieldvet.com or contact the staff: 417-889-2727 or info@deerfieldvet.com.