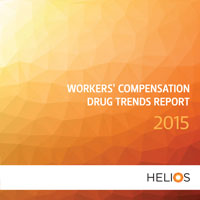 (PRWEB) April 02, 2015
Helios, a national provider of workers' compensation pharmacy benefit management services, announces the release of its 2015 Drug Trends Report, which analyzes prevailing trends affecting pharmacy claim outcomes and the impact of the company's programs. Of the many data points in the report, Helios reveals a favorable decline in utilization of opioid analgesics and lower morphine equivalent dose (MED) per prescription and per claim.
"Overall, the percentage of injured workers using opioid analgesics declined by 1.6 points, and MED per prescription and per claim also declined," said Tron Emptage, chief clinical officer for Helios. "This is positive progress and a true testament to our proactive efforts. In conjunction with the efforts of our clients, our work to ensure that injured workers receive the right medication, in the right dose, at the right time, for the right duration continued to deliver better outcomes."
Additional key findings in the 2015 report include:
The rate of average wholesale price (AWP) inflation for generic medications increased more than tenfold, moving from 0.7 percent in 2013 to 10 percent in 2014. Meanwhile, the rate of AWP inflation for brand medications decreased slightly, from 13.3 percent to 12.5 percent. When weighted and combined, the result was an overall increase in AWP inflation of 11.4 percent—the highest the company has ever reported.
For the first time in more than a decade, the average prescription cost per claim increased, primarily in response to the unprecedented AWP inflation. However, the increase was contained to 3.9 percent due to the company's strong utilization controls, predictive analytics programs, and targeted clinical services.
The comprehensive report also sheds light on the influence of early intervention and comorbid conditions on claim outcomes, provides an overview of the top therapeutic classes, and includes insight on compounded medications, physician dispensing, and specialty medications, among other prevailing factors affecting pharmacy claim outcomes. Download or view the report online at http://www.Helioscomp.com/2015-drug-trends.
On April 21 at 1pm ET, clinical and governmental affairs experts from Helios will provide further commentary on the findings published in the report. Visit http://bit.ly/DTRwebinar to register for this complimentary webinar.
About Helios
Helios brings the focus of workers' compensation and auto no-fault Pharmacy Benefit Management, Ancillary, and Settlement Solutions back to where it belongs—the injured person. This comes with a passion and intensity on delivering value beyond just the transactional savings for which we excel. To learn how our creative and innovative tools, expertise, and industry leadership can help your business shine, visit http://www.HeliosComp.com or call 800.777.3574.
# # #