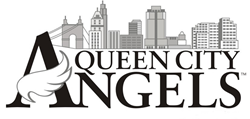 "InfraRed has been quick to create partnerships that can help prove the platform and advance the business," said Tony Shipley co-founder and chairman of Queen City Angels
Cincinnati, Ohio (PRWEB) April 06, 2015
Queen City Angels, the region's longest running angel group, today announced an investment in InfraRed Digital, Inc., a local technology start-up led by the native Cincinnati father-daughter team of Ed and Elena Fullman. This is the Fullman's second start up together, and first in Cincinnati. InfraRed is developing a proprietary big data platform and developer community that can make reusable and re-saleable analytic modules or plug-ins.
Ed Fullman's insight is that key "blocks of code or modules" in analytics solutions are the same across customer applications in the same industry vertical. Traditionally, software to develop analytics has forced us to build every application wholly from scratch," said Fullman. "Our community of experts will build reusable modules that can be reapplied without compromising the distinct and competitive differences between specific applications. This can change the way analytics are created."
InfraRed aims to disrupt the $37 billion analytics software industry by enabling data scientists, analysts, and data savvy professionals to radically simplify, accelerate, and reduce the cost of big data and predictive analytics. "InfraRed is part of a bigger revolution to democratize technology where technology rapidly continues to become more accessible to more people.
"Enterprises will use InfraRed to access a community of analytic experts to solve their unique challenges," said Elena Fullman. "We are on a mission to enable the work from multiple developers to be bundled together to solve a variety of needs."
Today, InfraRed is working closely with university research institutes and innovation centers. "Universities will use InfraRed to leverage their vast resources to build analytic products and intellectual property. InfraRed's platform facilitates the development of branded analytic products," said Elena Fullman. By the fourth quarter of 2015, InfraRed will launch a major release of their platform with dozens of innovative analytic applications built by their social network of experts.
Ed Fullman added, "The last several years we have seen significant growth within the Cincinnati entrepreneurial community, as well as the community and financial resources available for companies like ours. We are excited to build a company in our hometown, and appreciate the financial and mentoring support of the Queen City Angels, which continues to be an engine for start-ups throughout the region."
"Elena and Ed are proven entrepreneurs who know what it takes to get a company off the ground, and with its first-movers advantage, InfraRed has great potential to shake-up the massive analytics software industry," said Tony Shipley, founder and chairman of the Queen City Angels. "The company has been quick to create partnerships with organizations that can help prove the platform and advance the business. We look forward to helping the Fullmans capitalize on the "blue ocean' opportunity' that's in front of them."
About Queen City Angels
The Queen City Angels (QCA) is a group of more than 50 experienced accredited investors who provide funding, support and guidance to early-stage growth companies in the Cincinnati area and surrounding region. QCA members, which include former C-level executives and entrepreneurs, draw from their personal operating and management experience to evaluate opportunities and provide on-going mentoring to young businesses with exceptional growth potential. Since 2000, QCA members have directly invested more than $42 million in 75 portfolio companies, which have collectively raised over $325 million. CB Insight recently ranked QCA second out of 370 national angel organizations. For additional information, visit http://www.qca.com.
About InfraRed Digital
InfraRed is a technology startup based in Cincinnati, Ohio. InfraRed is developing a social network that makes analytic applications. Started in 2013, the company's founders are the father and daughter duo of Ed and Elena Fullman. InfraRed is a member of Cintrifuse. For additional information, visit http://www.infrareddigital.com.