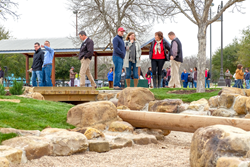 Chattanooga, TN (PRWEB) April 02, 2015
PlayCore is pleased to announce their participation as the Presenting Sponsor for the Children and Nature Network 2015 Conference, to be held April 7-8 at the Hyatt Lost Pines in Austin, TX. The conference, which highlights the critical role that nature-rich communities play in the health and well-being of people, will also explore research and policies, highlight leading health and urban planning experts, and unveil innovations that will help bring people and nature together in meaningful ways.
PlayCore's body of nature play research, conducted with scholars and experts in the field is one of the many ways the company helps to promote the alignment of nature and play. Their programs NatureGrounds, Designing Play Environments that Integrate Manufactured Play Equipment with the Living Landscape and Pathways for Play, Infusing Play into Pathway Networks to Encourage Active Lifestyles for Children, Families and Communities provide research based tools to help promote, advocate for, and build natural play spaces that attract children and families and promote higher usage and appreciation of nature. Follow up site specific research has demonstrated the profound effect these programs can have on increasing usage of spaces designed with the best practices outlined.
One of the field trip options at the Conference will highlight the Dove Springs District Park, a National Demonstration site for NatureGrounds, where a themed play space in a nature rich setting is creating an exciting destination for families in and around the community. Attendees on the filed trip will learn how the nature play site is helping bring focus to increasing access to nature and outdoor activity as part of a larger revitalization project. For more information, contact PlayCore at info(AT)playcore.com
About PlayCore: PlayCore helps build stronger communities around the world by advancing play through research, education, and partnerships. The company infuses this learning into its complete family of brands. PlayCore combines best in class planning and education programs with the most comprehensive array of recreation products available to create play solutions that match the unique needs of the each community they serve. Learn more at http://www.playcore.com/programs/design-programs.aspx