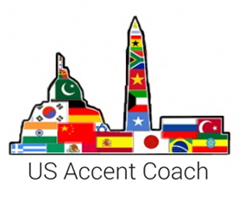 "I am happy with this program and would reccomend it to other students who are looking to have a better accent." ( Hiep Pham- Social Security Administration)
NEW YORK, NY (PRWEB) April 20, 2015
US Accent Coach is based in New York City, but offers online accent reduction classes and lessons 24 hours, 7 days a week. We work with business owners, employees, individuals and students in the US, and worldwide who are having a difficult time and seeking to improve their business-writing, English communication, vocabulary, speech and writing at school, work or daily life. All of the online programs are fast and efficient and are tailored to meet the immediate needs of the organization or individual. US Accent Coach GUARANTEES IMMEDIATE IMPROVEMENT in English speech and language within 3 to 6 weeks.
At US ACCENT COACH, teachers, coaches and instructors are TEFL certified or licensed speech pathologists that have years of experience in areas of speech and language and are experts when it comes to reducing the accent and improving English language and communication for non-native English speakers.
US Accent Coaches accent reduction, speech, pronunciation and English language classes are taught online, using both Skype and Adobe Connect. The live platform allows us to provide audio and visual interaction, as well as to share instructional materials including documents, PowerPoints and live recorded videos of the entire lesson.
US Accent Coach creates an individual experience for each student during every session. US Accent Coaches speech and ESL coaching classes are designed to focus on specific curriculum and comprehensive material and lessons in accent reduction, pronunciation, and ESL. At US Accent Coach, the successful speech and language approach has proven effective because it allows clients to obtain enhanced self-esteem and increased confidence as a result of sessions. The objective is to increase comfort and ease in communication and decrease problematic misunderstandings that can occur in daily interactions.
US Accent coach provides 24/7 service to those in all different time zones. Sessions can include business-writing, writing lessons or help with specific documents or assignments, interactive presentations, test preparation and practice for English standardized tests like the TOEFL and IELTS exams or licensure. Help can be given to boost and refine general and individualized features of sounds and speech: the proper pronunciation of vowels, diphthongs, consonants and consonant clusters in words. Students will learn to pronounce different vowel and diphthong sounds in isolation and in word phrases and clauses. Learn the importance of stress, intonation and speaking rate to feel more comfortable with voice and accent.
The purpose of the customized courses improve pronunciation so that the individual or group can be more easily understood by native English speakers and feel more confident in their speech and accent.
Benefits of Online Courses:

The online courses are available 24 hours a day, 7 days a week, internationally.
Improve communication in a short period of time.
An Affordable alternative that allows studying during convenient times.
Taught by an experienced expert in the field that can help work on problematic areas
If you are interested in working on a specific skill, want short-term classes, or just want to take a couple of classes before you invest in one of the US Accent Coaches accent reduction programs, "PAY AS YOU GO" classes available.
-Teachers and Coaches at US Accent Coach aim to analyze and determine specific strengths and weaknesses.
-Customized programs to target each unique set of language difficulties and learning styles.
Through interactive, organized instruction methods, coaches help students utilize their own problem-solving skills, tools, and techniques to enhance existing strengths and bring forth new talent and proficiency. US Accent Coach's teaching methods are centered around understanding and patience, for a fulfilling personal learning experience.
US Accent Coach works with both large and small organizations that have benefited from immersion training and speech coaching. Clients include the Food and Drug Administration and the Social Security Administration, as well numerous private companies and individuals. US Accent Coach has worked with many non-native English speakers from various ages, experience levels, and cultures around the globe for over 11 years, and has acquired a deep understanding of the emotional, physical, and mental struggle that comes with improving American English accents and fluency. People ranging in age from adolescent students to adult business professionals have profited from US Accent Coaches qualified communication coaching and tutoring classes, which can be taught in groups or individually, in the workplace, or online.
About Jessica Howard:
Jessica Howard, Founder of US Accent Coach, established the company to help international travelers, workers and students adjust to life in America. Jessica received a B.A. in Psychology from George Washington University, and received an M.S. in Clinical Community Counseling from Johns Hopkins University. She also has her certificate in Teaching English as a Foreign Language (TEFL) from Georgetown University. She has traveled and lived in over twenty countries around the world, and her experiences in international relations bring a depth of cross-cultural understanding to the issues that non- native individuals face when coming to America.
Contact us today +1 (646) 850-9750 or email us at info(at)usaccentcoach(dot)com