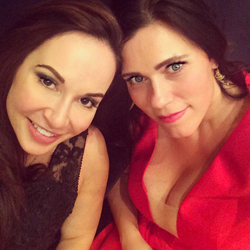 "Life is short, Live it Haute!"
Boston, MA (PRWEB) April 12, 2015
Massachusetts-based fashion blog, "The Haute Mamas," gets a new website and revamped attitude. Partners, Kimberly Gioioso and Jessica Hennessy, cover everything from fashion to food to losing their spouses and raising their children. The Boston bloggers aim to spread a positive attitude, while inspiring women to live life to the fullest. Prominent New England women are joining in on the "Haute Mama Movement." Guest Blogger, Kate Merrill of WBZ TV Channel 4, blogs about the importance of lifelong friendships as the April "Haute Guest."
The blog will soon have a national audience, as Haute Mama and founder, Kimberly Gioioso, is fresh off a fashion shoot with JCPenney. Kim will be featured as one of the company's "muses" for their spring fashion line.
Jessica, also owner of the prominent award-winning Boston-based moving company Mercury Moving & Storage Systems, joined the blog in early 2015. She brings a strong writing background to the blog.
Formally, The Three Haute Mamas, while fashion is the still their passion, the women have so much more to share. Join the pair for fun times, stories, fashion and so much more. After losing and then finding themselves their motto became their mission. "Life is short, live it haute!"
Follow the two on their blog http://www.thehautemamas.com, Instagram, Twitter, Facebook, and Pinterest.