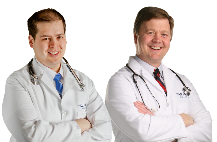 SIOUX FALLS, S.D. (PRWEB) April 02, 2015
An investigational drug that may have the potential to use the body's immune system to attack tumors is the focus of a Sanford Health clinical trial for head and neck cancers called KEYNOTE 055. Sanford oncologist Steven Powell, M.D., and otolaryngologist John Lee, M.D., are enrolling patients across the Midwest to study the investigational drug, Pembrolizumab, in patients with recurrent or metastatic head and neck cancers. Merck is the sponsor of the study.
The trial seeks to determine if Pembrolizumab will use the body's immune system to attack head and neck cancers by blocking a protein that would otherwise allow cancerous cells to thrive.
Head and neck cancers occur in the oral cavity, throat, larynx (voice box), sinuses, nasal cavity and salivary glands.
Patients may be eligible for enrollment in KEYNOTE 055 if they have a confirmed recurrent case of head or neck cancer that is considered incurable by standard therapies. Enrollees will receive Pembrolizumab every three weeks for up to two years at the Sanford Cancer Center.
Head and neck cancers make up around 3 percent of all cancers in the United States, according to the National Cancer Institute (NCI).
Powell is the principal investigator of KEYNOTE 055. He has a clinical research program focused on head and neck cancers in partnership with Lee's lab at Sanford Research. Powell is also an active participant in the NCI Community Oncology Research Program.
Lee is a sub-investigator in the trial. Honored in 2010 by the American Cancer Society for his research, his lab at Sanford Research focuses on the link between HPV and the development of head and neck cancers. His research has provided patients across the Midwest with access to innovative clinical trials.
For more information on how to enroll in this clinical trial and its possible risks and benefits, call 1-877-878-4825.
About Sanford Health
Sanford Health is an integrated health system headquartered in the Dakotas. It is the largest, rural, not-for-profit health care system in the nation with 43 hospitals and 243 clinics in nine states and three countries. With 27,000 employees, including 1,400 physicians in more than 80 specialty areas of medicine, Sanford Health is the largest employer in the Dakotas.
Nearly $1 billion in gifts from philanthropist Denny Sanford have allowed for several initiatives, including global children's clinics, genomic medicine and specialized centers researching cures for type 1 diabetes, breast cancer and other diseases. For more information, visit sanfordhealth.org.
###