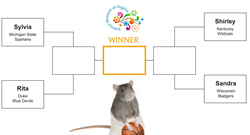 Richmond, VA (PRWEB) April 02, 2015
The Rat Basketball Association is preparing for the March Ratness tip off on Friday, April 3 at 11am at the Science Museum of Virginia.
New this year, the RBA tournament will test new-school skills against the traditional tactics of the veteran players. The whiskered players will represent the final four teams of their college compatriots as they go head to head, pitting lay ups against the full body dunk. Which technique will come out on top? Will the rats' tournament accurately predict the men's NCAA champion? Find out!
"The rats have been training all year long for March Ratness," says Noah Haden, Educator and Rat Trainer, Science Museum of Virginia. "We use classical and operant conditioning techniques to enable our rodent friends the ability to enjoy the game of basketball – and we enjoy watching them, too!"
Put on your team colors, grab a pom pom and cheer alongside the crowd. Fill out your March Ratness bracket and crowd members who correctly guess the outcome of the RBA tournament will win tickets to the Museum.
March Ratness is included with Museum admission. Tickets are $11 with $1 discounts for ages 4-12 and 60+. For more information, visit http://www.smv.org or call 804.864.1400.