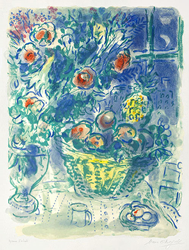 The exceptional works in this auction illustrate the extensive experimentation that permeated the art world
New York / Berlin (PRWEB) April 02, 2015
artnet Auctions is pleased to announce that our Modern Masters auction is now live for bidding. From expressive uses of color to the inclusion of nontraditional materials and subject matter, Modern artists found new ways to depict and interpret their rapidly changing world. The exceptional works in this auction illustrate the extensive experimentation that permeated the art world at that time. Modern Masters features works in a variety of media by the pioneers of Modern Art, including Pablo Picasso, Marc Chagall, Henri Matisse, Joan Miró, Alexander Calder, Salvador Dalí, Fernand Léger, and Man Ray, among others. Estimates range from $1,200 to 160,000. 
Auction Highlights
Henri Matisse, Odalisque, Brasero et Coupe de Fruits, 1929. Lithograph. Estimated at $15,000 to 25,000.
Fernand Léger, Still Life with Profile, ca. 1941–1942. Ink on paper. Estimated at $14,000 to 18,000.
Pablo Picasso, Face in an Oval, 1955. Glazed and painted ceramic platter. Estimated at $10,000 to 15,000.
Henri Matisse, Portrait de femme, 1940. Pencil on paper. Estimated at $130,000 to 160,000.
Pablo Picasso, Tete de Faune Heureux, 1954. Ink on paper. Estimated at $40,000 to 46,000.
Joan Miró, Untitled, ca. 1958. Watercolor on paper. Estimated at $35,000 to 40,000.
After Alexander Calder, American Revolution Bicentennial, 1975. Tapestry. Estimated at $5,000 to 7,000.
Fernand Léger, Still Life with Blue Vase (The Table), 1951. Hand-painted and glazed terracotta plaque. Estimated at $20,000 to 26,000.
Le Corbusier, Sketches Illustrating The Principle of the Brise-Soleil, ca. 1938. Ink on paper. Estimated at $7,000 to 10,000.
Modern Masters is live on artnet Auctions now through April 9, 2015, and is on view at http://www.artnet.com/auctions/modern-masters-0415.
— Register to bid on artnet Auctions: http://www.artnet.com/auctions/register-to-bid
— View all lots: http://www.artnet.com/auctions/all-artworks/
For more information about this sale, please contact artnet Auctions specialists:
Elizabeth Masella
SPECIALIST, PRINTS & MULTIPLES
+1-212-497-9700 ext. 163
emasella(at)artnet(dot)com
John McCord
SENIOR SPECIALIST, POST-WAR & CONTEMPORARY ART
+1-212-497-9700 ext. 173
jmccord(at)artnet(dot)com
About artnet
artnet is the leading online resource for the international art market. Established in 1989, artnet provides reliable information and market transparency to art collectors. With our comprehensive suite of products, artnet can empower anyone with a passion for art.
With 24/7 worldwide bidding, artnet Auctions & Private Sales is a dynamic marketplace for collecting art. Our online auction platform provides a unique collecting experience with seamless flow between consignors, specialists, and collectors. Our auctions and private sales community influences new collectors and inspires everyone to collect art.