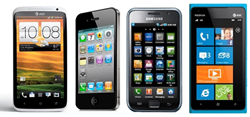 Greater than 47% of smartphone sales are dependent on the RSPs' influence at the point of purchase
Scottsdale, Arizona (PRWEB) April 05, 2015
Samsung is the most often recommended brand among all smartphone devices in the United States, well ahead of Apple's iPhone. The MSS US RSP Wireless Influencer Study, now in its 8th year, asks over 3,000 RSPs their opinion of brands, and to rank all the major smartphone brands in terms of the frequency they recommend them to consumers.
"RSPs have an enormous impact on not only the smartphone device brand a consumer purchases, but all mobile devices including simple and feature phones, tablets and phablets," says Kevin Moran, President of MSS. "With greater than 275,000 RSPs each making recommendations at the rate of 2,100 per year in smartphones, these Influencers represent a significant opportunity for a brand to increase their share of recommendations within the mobile device space to drive sales."
The MORBA program recognizes smartphone brands with the highest share of recommendations among RSPs in the annual MSS RSP Wireless Influencer Study. Additional information is provided to participating manufacturers on product image, programming effectiveness and other metrics that enable them to make more informed strategic decisions on how to position their brand among Influencers. "The vast number of RSPs with whom we speak year over year allows us to have a very clear picture of a brand's position in the trade with a focus on the core carriers and retailers—Verizon, AT&T, T-Mobile, Sprint, Best Buy and Walmart. It has been both exciting and tragic to watch the continued growth of the winners, and utter disappearance or irrelevance of the losers over the past eight years. During our years of study and client engagement, we have helped guide the winners to higher levels and prop-up some of those who at one point were tipping ingloriously toward irrelevance to 'get back in the game,'" says Moran.
Moran further asserts that "greater than 47% of smartphone sales are dependent on the RSPs' influence at the point of purchase. What drives successful RSP influence is optimal direct marketing and messaging activation focused at the RSP; training and education is key. In the absence of a strong 'affinial' relationship between the RSP and the device brand which is built through proper activation, money is being wasted." MSS identifies and guides clients on how to develop that relationship to better win at the point of purchase.
The 2014 MSS Most Often Recommended Smartphone Brand Award winners include (in rank order):
Samsung
Apple
LG
HTC
Motorola
Nokia
Notes: The 2014 US RSP Wireless Study surveyed thousands of RSPs in the top 18 US MSAs between January and December on a continuous basis. Results are based on measures of recommendation by Influencers that are proprietary to MSS. Awards are based on numerical scores, and not necessarily on statistical significance and provided among only those brands included for ratings in MSS Influencer studies. Rankings at the device level are provided and analyzed for clients as well.
MSS offers affordable, multi-sponsored, 'near custom' market research to help marketers develop tools to optimize their brand's direct to the trade marketing and sales programming to drive brand recommendations at the point of purchase. "Over the years, we have quantified and validated the importance of the Influencer," said Moran. "His critical role in driving sales to consumers at the point of purchase cannot be ignored."
MSS' staff is composed of highly trained, research professionals with a vast array of expertise on a global basis. MSS performs at the very highest standards of research protocol and provides a wealth of actionable information about Influencers in 19 categories from mobile devices to beverages to passenger car lubricants in nearly 50 countries, at a cost-effective price. For more information about our mobile device and other influencer studies, visit us at http://mssmulti.com or call 480-595-4754 ext. 1227.
Contact: Scott Snow
Phone: (480) 595-4754 ext. 1227
Email: ssnow(at)mssmulti(dot)com
# # #