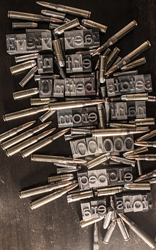 LOS ANGELES (PRWEB) April 20, 2015
Logan Miller, Woodbury University Class of '15 Graphic Design student, has won International Platinum level honors in the prestigious Graphis Social & Political Protest Poster Competition.
Miller's poster addresses gun violence in the United States and earned him the Graphis Platinum trophy (http://www.graphis.com/entry/aff67fa6-15ed-4e16-bc85-d7f6315c0695/) from Graphis, The International Journal of Visual Communication. Founded in 1944, Graphis publishes the world's most significant and influential works from the greatest talent in design, advertising and photography.
Designed as a class project, the poster was originally published in the New Talent Annual. With this honor, the work will now be published in the professional 2015 Design Annual, along side of winners from such renowned graphic design firms as Pentagram, Milton Glaser Inc, Looking, and Takashi Akiyama Studio. Miller's award is one of eight Platinum level honors conferred internationally.
"Logan's work rightly belongs next to those from the most esteemed professionals in our industry," said Sue Vessella, M.F.A., Chair of Woodbury's Graphic Design Department and Associate Dean of the School of Media, Culture & Design. "We congratulate him and can't wait to see where his creativity and superb technique take him."
About Woodbury University
Founded in 1884, Woodbury University is one of the oldest institutions of higher education in Southern California. It offers bachelor's degrees from the School of Architecture, School of Business, School of Media, Culture & Design, and College of Transdisciplinarity, along with a Master of Arts in Media for Social Justice, Master of Architecture (MArch), Master of Interior Architecture (MIA), Master of Science in Architecture (MSArch), and Master of Leadership. The San Diego campus offers Bachelor of Architecture and Master of Architecture degrees, as well as an MSArch degree with concentrations in Real Estate Development and Landscape + Urbanism. Woodbury ranks 15th among the nation's "25 Colleges That Add the Most Value," according to Money Magazine. Visit http://www.woodbury.edu for more information.