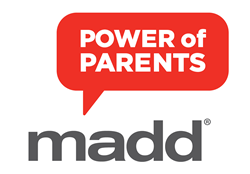 Dallas (PRWEB) April 02, 2015
Mothers Against Drunk Driving® (MADD), National Presenting Sponsor Nationwide and National Supporting Partner GM Foundation today announced 21 days of activation, starting April 1st and culminating with PowerTalk 21® Day, April 21st, the national day for parents to talk with their children about alcohol. The 5th annual campaign launches the new Power of Parents® handbook for parents of middle schoolers (grades 6-8) to help them talk early and often about the dangers and consequences of underage drinking.
A new MADD/Nationwide Survey shows that about one-third of parents believe the ages in which to start talking with their children about alcohol are 14-18 in high school. Because research shows children start weighing the pros and cons of underage drinking as early as age 8, as 2nd-3rd graders in elementary school1, MADD urges parents to start talking much earlier and to keep talking as those perceptions about alcohol continue to form and change through age 21. View MADD's infographic for a detailed look at our findings.
"It's our responsibility as parents and adults to raise alcohol-free teens," said MADD National President Colleen Sheehey-Church, whose 18-year-old son Dustin was killed by an underage drunk and drugged driver. "Underage drinking prevention is a cornerstone of MADD's mission, and we're committed to giving parents the tools they need to start and continue crucial and potentially lifesaving conversations about alcohol with their kids."
Parents – not peers – remain the biggest influence on their children when it comes to alcohol. MADD's new Power of Parents handbook for parents of middle schoolers builds on MADD's original Power of Parents high school handbook (grades 9-12).
"Nationwide places a high priority on helping parents prevent injuries to their children, and our efforts with MADD to prevent underage drinking are an important component to achieving that," said Bill Windsor, Nationwide Associate Vice President of Consumer Safety and MADD National Board Chair. "Expanding the Power of Parents program to include a middle school component means parents have what they need to help their children understand why they can – and should – wait until they're 21 to drink alcohol."
The MADD/Nationwide survey also reveals more than twice as many parents ranked drug use as the most important topic to discuss with their children as compared to underage drinking. A common misperception is that drugs are the leading harm when alcohol is still the number one drug of choice of youth and underage drinking kills more people than all other illegal drugs combined.2 In addition, parents ranked a total of eight social harms in order of importance, of which alcohol ranked seventh.
"We understand parents have many concerns to address as a family to keep their kids safe," added Sheehey-Church. "We just want parents to know that alcohol often times plays a role in preventable consequences such as unplanned pregnancies, sexual assault, car crashes, drug use and alcoholism. Knowing this information is just another way they can protect their children, now and in the future."
"There are consistent and clear messages from decades of research that there are no safe ways to 'teach' children or teens how to drink responsibly," said Dr. Robert Turrisi, PhD, professor and researcher at Pennsylvania State University. "Data shows there is no point in time before the age of 21 where giving children access to alcohol, even tiny sips, helps protect them. In contrast, the studies show that when parents allow children having even small amounts those children are at a higher risk of: 1) drinking more when they are not with their parents, 2) drinking more often, and 3) experiencing more serious problems."
Starting with Houston, Texas*, MADD is challenging mayors across the country to make the prevention of underage drinking a community-wide priority by encouraging parents to download MADD's Power of Parents handbook during the 21 days of PowerTalk 21, April 1-21st.
"Too many young lives are being lost due to this problem," said Houston Mayor Annise Parker. "We must not stand by and allow this completely preventable situation to continue. I urge my fellow mayors across the country to join me in this challenge and to support parents' efforts to prevent underage drinking."
PowerTalk 21 is launching at a crucial time, when many teens will soon be attending celebratory events like proms and graduation parties, and where they may encounter more opportunities or peer pressure to drink. Nationally in 2013, of the traffic deaths that involved an underage driver, nearly one in four involved underage drinking.3
"Alongside MADD, we urge parents to talk with their teens, this spring and all year long, about how underage drinking is dangerous and can be deadly, especially delivering a strong message to not get into the car with someone who's been drinking," said Greg Martin with the GM Foundation.
Parents can enter to win prizes by visiting madd.org/PowerofParents to download a free handbook, register for a free online webinar on April 21st, or learn how to get involved in their local community.
Nationwide is the national presenting sponsor of Power of Parents and the GM Foundation is the national supporting partner. National program partners include the National Football League (NFL), National Parent Teacher Association (PTA), American Association of School Administrators (AASA), National Association of Secondary School Principals (NASSP), National Association of School Resource Officers (NASRO), The Partnership at Drugfree.org, National Organizations for Youth Safety (NOYS), Drug Free Action Alliance (DFAA), Driving School Association of the Americas (DSAA) and CASA Family Day. In Texas, Power of Parents is supported by the Texas Department of Transportation Highway Safety Program through the Take the Wheel program.
References:
1Brooke S. G. Molina, John E. Donovan and Katherine A. Belendiuk, Alcoholism: Clinical and Experimental Research, November 2010; Donovan, John E., Molina, Brooke S. G. and Kelly, Thomas M., Psychology of Addictive Behaviors, Vol 23(2), Jun 2009, 248-259.
2National Academies Press, 2003
3NHTSA 2013 FARS Data Query
*Footage of PowerTalk 21's Houston launch event is available upon request.
Full results from the 2015 MADD/Nationwide survey are available upon request.
About Power of Parents® and PowerTalk 21®
Parents remain the number one influence on their teen's decisions about drinking and the single biggest influence on their teen's decision to not drink. PowerTalk 21 encourages parents to use MADD's Power of Parents handbook to help initiate these conversations with their children. MADD partnered with Dr. Robert Turrisi from Pennsylvania State University and adapted his handbook model to reach parents of middle and high school students. The Power of Parents handbook is the cornerstone of this community-based program and is available free to communities through the website and through local parent workshops.
About Mothers Against Drunk Driving
Founded by a mother whose daughter was killed by a drunk driver, Mothers Against Drunk Driving® (MADD) is celebrating its 35th anniversary by creating a future of NO MORE VICTIMSTM. MADD is the nation's largest nonprofit working to end drunk driving, help fight drugged driving, support the victims of these crimes and prevent underage drinking. MADD supports drunk and drugged driving victims and survivors at no charge, serving one person every ten minutes through local MADD victim advocates and at 1-877-MADD-HELP. MADD's Campaign to Eliminate Drunk Driving® will end drunk driving through increased law enforcement, all offender ignition interlock laws and advanced vehicle technology. PowerTalk 21® is the national day for parents to talk with their teens about alcohol, using Power of Parents®' proven approach to reduce underage drinking. Learn more by visiting MADD's new website at madd.org or calling 1-877-ASK-MADD.
About Nationwide
Nationwide Mutual Insurance Company, based in Columbus, Ohio, is one of the largest and strongest diversified insurance and financial services organizations in the U.S. and is rated A+ by both A.M. Best and Standard & Poor's. The company provides customers a full range of insurance and financial services, including auto insurance, motorcycle, boat, homeowners, pet, life insurance, farm, commercial insurance, annuities, mortgages, mutual funds, pensions, long-term savings plans and specialty health services. For more information, visit http://www.nationwide.com.
Nationwide, the Nationwide frame mark, and On Your Side are service marks of Nationwide Mutual Insurance Company.
About The GM Foundation
Since its inception in 1976, the GM Foundation has donated hundreds of millions of dollars to American charities, educational organizations and to disaster relief efforts worldwide. The GM Foundation focuses on supporting Education, Health and Human Services, the Environment and Community Development initiatives, mainly in the communities where GM operates. Funding of the GM Foundation comes solely from GM. The last contribution to the GM Foundation was made in 2001. For more information, visit http://www.gm.com/gmfoundation.
# # #