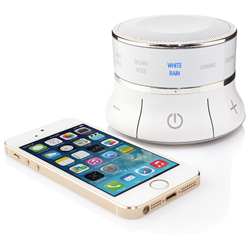 "Tranquil Moments Bedside Speaker represents the core spirit of Brookstone and its smart-living approach to developing products...." Brookstone CEO Tom Via
Merrimack, New Hampshire (PRWEB) April 02, 2015
Innovative product developer and specialty retailer Brookstone wins the 2015 Red Dot award for high quality product design with its wireless Tranquil Moments® Bedside Speaker. After an evaluation of 4,928 products submitted by manufacturers from 56 countries, the 38-member international expert jury chose Tranquil Moments® Bedside Speaker for its outstanding high design quality. Award ceremonies will take place on June 29 at the Red Dot Gala in Essen, Germany.
The elegant Tranquil Moments® Bedside Speaker plays research-developed sleep sounds to help the listener get a better night's sleep—and also doubles as a Bluetooth® enabled speaker for streaming music from smart devices any time of day. Unlike ordinary sleep sound machines, Tranquil Moments® Bedside Speaker plays sound programs that were developed, composed and engineered by Dr. Jeffrey Thompson, Founder of the Center for Neuroacoustic Research.
"We're honored to receive the prestigious Red Dot Award," said Brookstone CEO Tom Via. "Tranquil Moments® Bedside Speaker represents the core spirit of Brookstone and its smart-living approach to developing products that help solve real-life problems, are easy to use, and simply beautiful in their design."
Brookstone designs most of its innovative products in its own labs located in Merrimack, New Hampshire, USA. Brookstone has previously won Red Dot Awards for its Aero™ Wine Aerator (2014) and its Rover App-Controlled Spy Tank (2012). Brookstone also earned a Red Dot honorable mention for its next-generation Rover Revolution™ App-Controlled Spy Vehicle (2014).
Professor Dr. Peter Zec, Founder and CEO of the Red Dot Award: "For 60 years, the most-respected design experts have been convening every year in Essen to seek out the best designs. This year we had a record number of almost 5,000 entries – a huge amount of work for our jury members, who assessed each individual product. The laureates of the Red Dot Award: Product Design 2015 have demonstrated exceptionally high achievements and have thus been deservedly successful in the world's largest design competition."
About Brookstone, Inc.
Brookstone, founded in 1965, is a specialized nationwide retailer of innovative and lifestyle products designed for smart living. Brookstone offers a diverse collection of exclusive unique-design and multi-function high quality products through a multi-channel strategy including catalog mail orders, phone orders, online at http://www.brookstone.com and 218 store locations in shopping malls and high-traffic airports across the US and Puerto Rico.
In a joint venture with Sailing Capital and GE Capital, SanPower Group acquired Brookstone in 2014. Dedicated to growing Brookstone globally, SanPower Group will assist in developing the British and Chinese markets starting with Hongtu Brookstone in China where the expected expansion will be for more than 300 stores by 2016.
About the Red Dot Award:
In order to appraise the diversity in the field of design in a professional manner, the Red Dot Design Award breaks down into the three disciplines of Red Dot Award: Product Design; Red Dot Award: Communication Design; and Red Dot Award: Design Concept.
The Red Dot Award was created by Design Zentrum Nordrhein Westfalen and, with around 17,000 entries each year, is one of the best-respected design competitions in the world. In 2015, it is celebrating its 60th anniversary: it was in 1955 that a jury convened for the first time to assess the best designs of the day. The sought-after award, the "Red Dot," is the revered international seal of outstanding design quality.
Award-winning designers, manufacturers and agencies use the Red Dot winner label and receive numerous other winners' privileges, such as the presentation of the award-winning product on Red Dot Online, in the Red Dot Design Yearbook, the Red Dot App and on Red Dot 21. Additionally, the winning products are communicated in the international PR activities of Red Dot and exhibited in the Red Dot Design Museum Essen for a whole year. More information is available at http://www.red-dot.org/press.