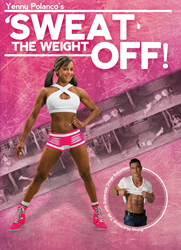 I am so proud of this video, and so thankful to all those that helped in its production! Yenny Polanco
Worcester, MA (PRWEB) April 03, 2015
Yenny Polanco is proud to announce the release of her second Fitness DVD, Sweat the Weight Off, featuring accomplished Fitness Star Yenny Polanco.
Sweat the Weight Off: is a high energy fitness routine designed to help you Sweat the Weight Off, with NO special equipment (just the will and determination to keep up with Yenny...) STWO is an advanced and challenging home-based workout, consisting of 3 different sets, each "knocking out" a different body part. STWO also has a "how to guide" to help you learn the exercises, as well as nutritional cooking segments with Special Guest Magazine Cover Model Diego Sebastian.
Yenny has been working on the production of this video since the release of Jump the Weight off in 2013 and is incredibly proud of its release. "I have put so much time and energy into every aspect of this video, from the exercises to the production team that helped me get it finished. It has been a challenging and enriching experience and I am thrilled to see it finally released!".
Both are available on Amazon.com:
http://www.amazon.com/Sweat-Weight-Off-Yenny-Polanco/dp/B00MH6AQY0/
http://www.amazon.com/Weight-Yenny-Polanco-David-Cooper/dp/B00CAEHTKI/
Yenny's DVD's are also available on Yenny's Web Site – http://www.FitnessByYenny.com.
About Yenny Polanco, "America's Fitness Sweethearttm"
Ms. Polanco, is an AFPA (American Fitness Professionals & Associates) certified personal fitness trainer, CPR certified, and an IFBB Professional Athlete (International Federation of Body Building and Fitness). She is self-taught and has achieved professional status in both the Fitness & Figure divisions in multiple world organizations. She has choreographed and performed many different fitness routines for both National and International championships in the IFBB, NPC, IFPA, Fitness America and Figure America, Fitness Atlantic, Ms. Fitness World, and WNSO/FAME. Her competitive achievements include 2010 Joe Weider's IFBB Olympia - Fitness Top 14th Finalist. 2009 IFBB Fl Fitness top 3 (qualified for the Olympia!). 2009 NPC Team Universe Fitness Champ. 2009 IFPA VA State Figure champ. 2008 Figure America International champ (short division). 2008 INBF Ms. Fit Body Champ. 2007 NPC N.E. Fitness champ. 2007 INBF N.E. Figure champ. 2007 Ms. Fitness World top 10.