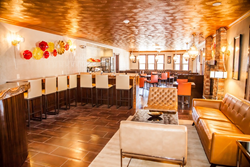 "I'm a big fan of Kanab," said Foster, a native whose resides here. "This is a great opportunity, and we can put some new spins on dining experiences in southern Utah."
Kanab, Utah (PRWEB) April 14, 2015
The breathtakingly and newly designed restaurant at the Canyons Boutique Hotel & Lodge and the upcoming new bistro space at the Flagstone Studios is pleased to announced the appointment of Shon Foster as its new Executive Chef, overseeing all dining concepts managed by The Canyons Collection.
Chef Shon's relationship with The Canyons Collection is an integral part of providing our community, and the millions of tourists whom travel through our area, with an elevated dining experience. He brings a culinary passion and love of his native town that has earned accolades and respect throughout the country.
With a life-long love of all things involving gastronomy, Chef Shon takes a thoughtful approach to food, blending contemporary French cuisine with the locavore tradition. While Executive Chef of the kitchen at Amangiri, he has featured dishes that highlight ingredients and culinary traditions native to Utah, and the Southwest US integrated with flavors from around the world. His aim is to let the pure flavors of the ingredients shine through while allowing room for experimentation and spontaneity. The result is an evolving menu that showcases his creativity in the kitchen and captures the vibrancy of the local culinary landscape.
Chef Shon charted his own path in the culinary world and transitioned from his career as a recording engineer in the music industry by starting his own restaurant, Rewind Diner. His passion for food sparked a self-taught desire and he continues to hone his craft by participating in collaborative efforts with chefs from around the globe. Recently, Zac Brown's Southern Ground Music and Food Festival feature his "S'mores School" and he has been a featured celebrity chef at the Pebble Beach Food & Wine Festival for the last two years. Chef Shon has also participated in "Mist: Salt Lake", an 8 week-long pop-up restaurant helmed by top chefs from the Southwest & UK.