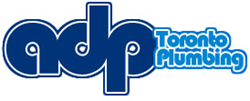 Toronto, ON (PRWEB) April 02, 2015
An ADP Toronto Plumbing representative recently spoke about the high level of "no water" calls the company received this past winter. With the arrival of spring, the plumbing company is just now starting to see the volume of these calls diminish. These calls came as a result of the unusually harsh winter in the Toronto area. "With unusually harsh cold weather our no water calls spiked to 10 times their usual volume," the company spokesperson stated.
The company has been in business for over 15 years and is often the firm clients turn to for drain pipe repair services, so it's no wonder the company's plumbers have received so many calls for the inspection and repair of frozen pipes. The company not only has some of the most well trained technicians, but their plumbers also use the latest technology, including HD cameras to identify hidden problems. That is why a company spokesperson was so adamant about getting the word out to homeowners that they should have their pipes inspected even if they have not yet experienced a water leak or problem with their pipes.
ADP Toronto Plumbing offers repair services 24 hours a day, 7 days a week and is expert at emergency calls. Clients have found over the years that the company offers comprehensive and innovative solutions when it comes to pipe repair. According to a company representative, "There are many different methods used to repair damaged or broken pipes and we use them all!"
The company uses a methodical approach to all their repairs, first evaluating the problem and then deciding on the best repair method to use. The process always involves a thorough inspection to not only solve any existing problems, but to search for unseen issues as well.
In addition to their leak inspection services, ADP Toronto Plumbing offers a full range of plumbing services including pipe repair and replacement, general plumbing maintenance, and installation of major appliances that connect to a home's water system.
More information about the company is available at http://onetorontoplumbing.com or by calling 416-822-2221 to speak with a representative. The company also has a presence on Facebook, Twitter, and Google+.
###