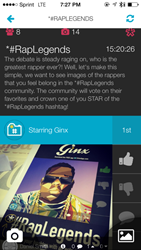 The Ginx App evolved the #hashtag to allow millions of social media users the ability to derive real value out of using them.
Las Vegas, Nevada (PRWEB) April 03, 2015
The new GINX iOS and Android App announced its availability to the public. The App officially launched during the Music portion of South By South West in Austin, TX (March 17-22) and the company had a noticeable presence at this historic festival.
The new GINX App created a new patent pending technology around the utilization of an ( * ) in front of #hashtag'd images (ex. *#SneakerHead) within Instagram, to allow millions of social media users the ability to now connect into real-time flash (i.e. expiring) photo-based communities around their #hashtag'd images. Social media users now have the ability to be visually social with larger communities of people using or interested in the same #hashtag during set time frames. Similar to a flashmob, but virtual and around #hashtag'd images. Participants in these #hashtag themed visual communities can then up-vote or down-vote images that other users have 'Ginx'd' (i.e. added the * to) to determine who best visually represented the #hashtag. When the time expires in these communities the user with the most community votes around their image is crowned "Star" of that #hashtag. Being voted "Star" of a #hashtag is similar to earning a MAYOR badge on Foursquare, only this social achievement is determined by a community vote and it revolves around a #hashtag. Brands/Events/Marketers can engage with and reward the "Stars" of their brand's #hashtag.
User Benefits:
Ability to instantly connect into visual communities themed around a #hashtag
Ability to be social with people who share an interest in a particular #hashtag and images around it
Ability to be voted STAR of a #hashtag!
Rewards
Marketer Benefits:
Ability to bring a concentrated visual awareness around their #hashtag initiatives
Ability to now identify and ENGAGE with participants in communities of real-time interests created around their #hashtag
Simple tool (i.e. the * ) that works within existing social platforms, that connects all of their Followers/Customers who are using their #hashtag into one community during a definite moment in time.
Detailed Analytics
The Story
Gerome Sapp, former NFL player for the Baltimore Ravens and Indianapolis Colts, founded Fluencr, Inc. (the company the GINX App was created under) based on his experience with endorsement deals during his NFL career. After leaving the NFL to pursue entrepreneurial opportunities, Sapp earned an Executive MBA at Harvard Business School and secured $300,000 in seed funding from the Vegas Tech Fund. After needing to pivot away from his initial business model, Sapp decided to pursue a new vision to evolve the #hashtag and created the GINX App.
Sapp leveraged important fundamentals around a FLASH-MOB to conceptualize the vision behind the GINX app. These fundamentals allow 1) large groups of people that don't know each other the ability to come together to be social, 2) a single initiative, and 3) for a single moment in time. Sapp realized that these fundamentals created a concentrated visual awareness around a FLASH-MOB's initiative. Sapp then had the idea to allow social media users the ability to create virtual FLASH-MOB's around a single #hashtag initiative, event or conversation in which participants could share images they took around that particular #hashtag during a set period of time.
"Millions of people, who don't know each other, are using or interested in the same #hashtag at the same time which creates natural groups of interest (defined by the #hashtag) in the CLOUD. However, there hasn't been a way for these social media users to connect with each other in photo-based communities based on their shared interest in a #hashtag", said Sapp.
The GINX app reversed the current photo-sharing model by allowing a shared interest in a particular #hashtag and the images associated with the #hashtag to dictate a person's participation in a community. Not a 'friendship' or "follower-ship" with a person. This creates real-time communities of interest around a trending or brand specific #hashtag that both social media users and marketers can engage with.
To date, the GINX App has been is a quiet Alpha/Beta phase with a select amount of users. Testing in this phase primarily revolved around the technology of the asterisk ( * ) being used in front of a #hashtag.
Availability
iOS and Android Apps available today in the Apple and Google Play Stores
Ginx is currently in a public Beta
Additional Resources
A visual community can be created/joined around a specific #hashtag by:
Adding an asterisk ( * ) in front of a #hashtag while posting in Instagram (ex. *#Musicfest).
From within the GINX App. Users DO NOT need an Instagram account to participate in the GINX App
Note: For beta, users must first download the Ginx App and connect their Instagram account while setting up a quick profile
About Fluencr, Inc.
Fluencr, Inc. is a Las Vegas, NV based social media marketing software company that was founded by former NFL and University of Notre Dame Captain/All-American Safety Gerome Sapp. Fluencr is a portfolio company of the Vegas Tech Fund, a seed investment fund created by Zappos.com CEO, Tony Hsieh.