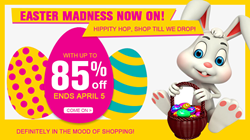 We wish everyone a very happy Easter and an exciting spring ahead.
New York (PRWEB) April 04, 2015
OASAP ltd., a leading high fashion company which specializes in women's clothing, has launched a special offer targeting Easter, which is April 5th. Both new purchasers and OASAP regulars will have the chance to win an 85% discount code on all OASAP products, including print dresses, hot shorts, summer T-shirts and so on.
From today, everyone visiting Oasap.com will see a lovely bunny offering an air hammer, with which, customers can hit the big Easter egg in the bunny's basket. In return, an 85% discount code on all OASAP products will be presented on the spot. Customers can use this coupon code to purchase all of the products from Oasap.com, such as, spring vantage dresses, one piece bikini swimsuits, Floral A-Line Maxi Skirts and others. Keep in mind that this code is valid only on April 5th.
Meanwhile, OASAP is hosting an Easter holiday photo-sharing contest on OASAP Facebook page. OASAP fans are encouraged to upload their photos related to the coming Easter Day to the page. The scores will be tallied by the number of times a participant's photo is shared on Facebook, and the participant with the most shares wins. OASAP will offer free samples and cash credits for the winners. Note that the deadline for photo uploading is April 7th.
"What makes us happiest is saving our members and site customers as much money as possible," says the OASAP CEO. "We have released a lot of new products recently, and I think they will be the best choice for global fashion icons in this spring. We wish everyone a very happy Easter and an exciting spring ahead."
ABOUT US
OASAP IS: A High-street Fashion Online store
OASAP Likes to: Deliver fashion & love!
OASAP is a global online store dedicated to high-street fashion by offering various kinds of women's apparel, bags, shoes, jewellery accessories, beauty products, etc.
OASAP was founded in late 2011, and has already grown to be the leader of high fashion online stores. We keep updating products at a high rate every day with spring dresses, hot shorts, a-line skirts and so on for global fashion icons. Now we update more than 300 new products each week. The products mentioned before definitely belong to the latest fashion trend.