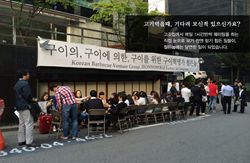 If it's not working, try it again until it works
(PRWEB) April 15, 2015
In Korea, a direct-fire method is used to cook meats fast, and it has a culture whereby people eat Kimchi and various Korean side dishes with the meat. This is called a Korean BBQ in the West. However, cooking and eating baked meat on a grilled fire or charcoal grill (for a short time) is called grilling; so, what is referred to as "Korean BBQ" should actually be called Korean Grill.
Another method of barbecuing is to cook the meat to permeate the smoked flavor slowly with a low heat, then mix it with this Korean style of barbecue cooking. There is a place that serves authentic Korean barbecue properly called 'The Iron-dude,' known as the grilled revolutionist of Korea. The franchise, which currently operates seven large stores in South Korea, plans on opening new restaurants in the United States, China and Australia, and is looking for new business partners to join its venture.
'The Iron-dude' cooks its meats by combining the advantages of the barbecue of the West and flame-grilled merit of South Korea, for a lasting, smoking incense-filled meat with a smoked oak firewood draft – all on a BBQ grilled machine that makes the food by itself, leading skewers in the form, and encouraging people to eat it in a short period time. And with fusion dishes such as salads and other Asian and Western foods, 'The Iron-dude' shows that Korean-styled barbecue can be in perfect harmony with Korean grilled culture and Western barbecue culture.
The mission of 'The Iron-dude' is to create a Korean barbecue culture. In 2008, Park Kyeong-jun, the original 'Iron-dude,' launched his grilled machine and dish, which was developed specifically for Korean-styled barbecue. For a long time, with the mission of "if it's not working, try it again until it works," he did his best with his barbecue skills and grilled machine and developed a menu with his persistent passion. With such drive, the company is still making huge developmental leaps to this day.
Now head of 'The Iron-dude'(Inc), Park Kyeong-jun makes every effort to perfect its grilled machine and menu, which occasionally features an upgrade of meat flavors. He calls 'The Iron-dude' a 'grilled revolution,' having spent a lot of time developing the grilled machine. As a former brand consultant, Park Kyeong-jun also spent a great deal of time developing the company's marketing elements, including a unified brand, interior restaurant design and menu. Park Kyeong-jun wanted to make sure that no other company could imitate its approach, and he has succeeded. Customers ranging from their 20s to 40s and beyond can enjoy the exotic experience, eating their meals while sitting among the sights and smells of a "barbecue laboratory" – an institute of Korean BBQ. With such work, Park Kyeong-jun ensures that 'The Iron-dude's' brand is purely distinctive and protected.
The new barbecue restaurant concept in Korea has been promoted across various media outlets, garnering it much fame. Some days, the line for seating at any of its restaurants can flow outside of the building and onto the sidewalk. 'The Iron-dude' gives a very unique experience to customers due to its unique cooking style and design. Its grilled machine is patented and made of exotic ironworks that customers cannot see anywhere else.
Above all, with 'The Iron-dude's' authentic food and style, it has become known as the standard of Korean barbecue.
If you would like to learn more about our business or a possible partnership, please contact us at longman1097(at)gmail(dot)com or visit http://www.Irondudepr.com.