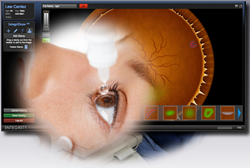 Written by ophthalmologists for ophthalmology practices
Temple, TX (PRWEB) April 06, 2015
TEMPLE, Texas and NORTH OAKS, Minnesota—Integrity Digital Solutions, LLC and Sophrona Solutions, Inc. announced today that they have established a strategic alliance to provide patient portal functionality to users of Integrity EMR for Eyes.
"We are very pleased to be able to offer the Sophrona Solutions portal to our user base. Sophrona has built a great reputation for providing sound patient portal and patient engagement solutions specifically for the ophthalmic market," said Chris Moore, CEO of Integrity. "We look forward to growing our businesses together by providing a feature-rich, cohesive product and service integration offering."
"We've been impressed by Integrity EMR for Eyes for a long time," said Marc-François Bradley, president of Sophrona. "The Integrity team recognizes the high value eye care providers place on ease of documentation and online patient communication. They have a solid product that is easy to use and seamless to implement. We're pleased to offer this new cloud option EMR to our clients."
About Integrity Digital Solutions
Integrity Digital Solutions, LLC is a leading innovator in EMR software for ophthalmology and optometry. Developed from the ground up by ophthalmologists and optometrists, Integrity EMR for EyesÔ is designed to expedite EMR implementation while providing a product that enhances patient care. Integrity EMR for EyesÔ is delivered on a efficient cloud-based platform and is backed by the company's concierge-level customer support. Integrity Digital Solutions' management team includes ophthalmologists, optometrists and software engineers who specialize in interface design, workflow optimization, and healthcare data security. For more information, visit http://www.IntegrityEMR.com
About Sophrona Solutions
Sophrona Solutions is an innovative healthcare technology firm offering profitable patient communication solutions to ophthalmology practices nationwide. Designed by ophthalmologists, Sophrona's secure patient communication software and data analysis tools give practices a comprehensive suite of patient relationship management tools to improve clinic efficiency, grow patient volume, and increase profitability. Sophrona's MU2 portal technology received ONC-ACB certification in October 2013. For more information, visit http://www.sophrona.com.